Posted on December 4, 2016
How To Create Interactive 360˚ Aerial Panoramas Using A Drone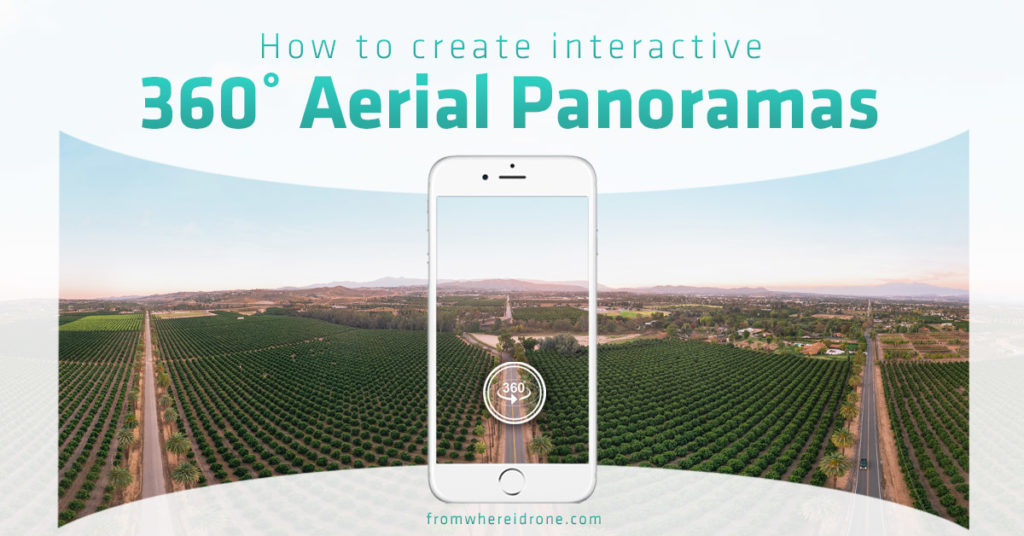 Today I'm going to show you how to create an interactive 360˚ aerial panorama using your drone!
After watching the video or reading the post below you'll know how to shoot, compile and post an interactive 360˚ panorama that you can share with family and friends.
Today I'm going to show you how to create an interactive 360˚ aerial panorama using your drone!
After watching the video above or reading the post below you'll know how to shoot, compile and post an interactive 360˚ panorama that you can share with family and friends.
I will start off by saying that this is a more advanced tutorial so if you want to start off with something a bit easier check out this beginner's tutorial called How to Create an Aerial Panorama.
So what's an interactive panorama?
It's basically a way for people to interact with a panorama using their mouse or smartphone and it gives the viewer the feeling that they are hovering in space.
This is because they can rotate all around an image in all directions if they are using the Facebook app or viewing Facebook.com on a computer.
Click on the photo below to experience it yourself: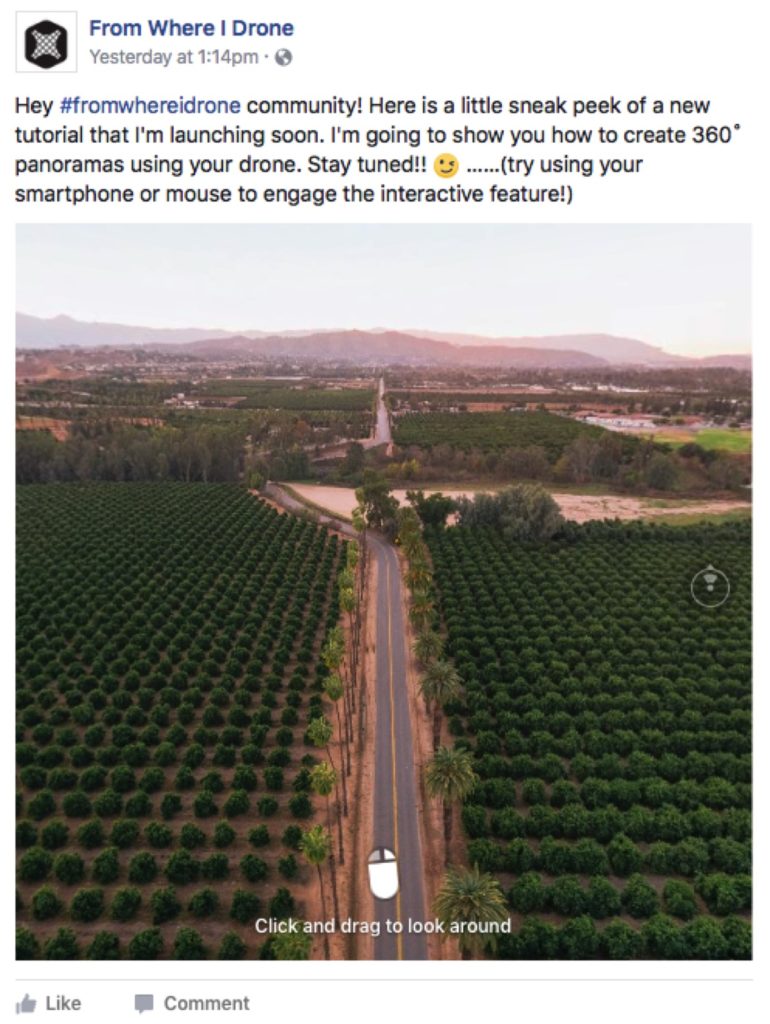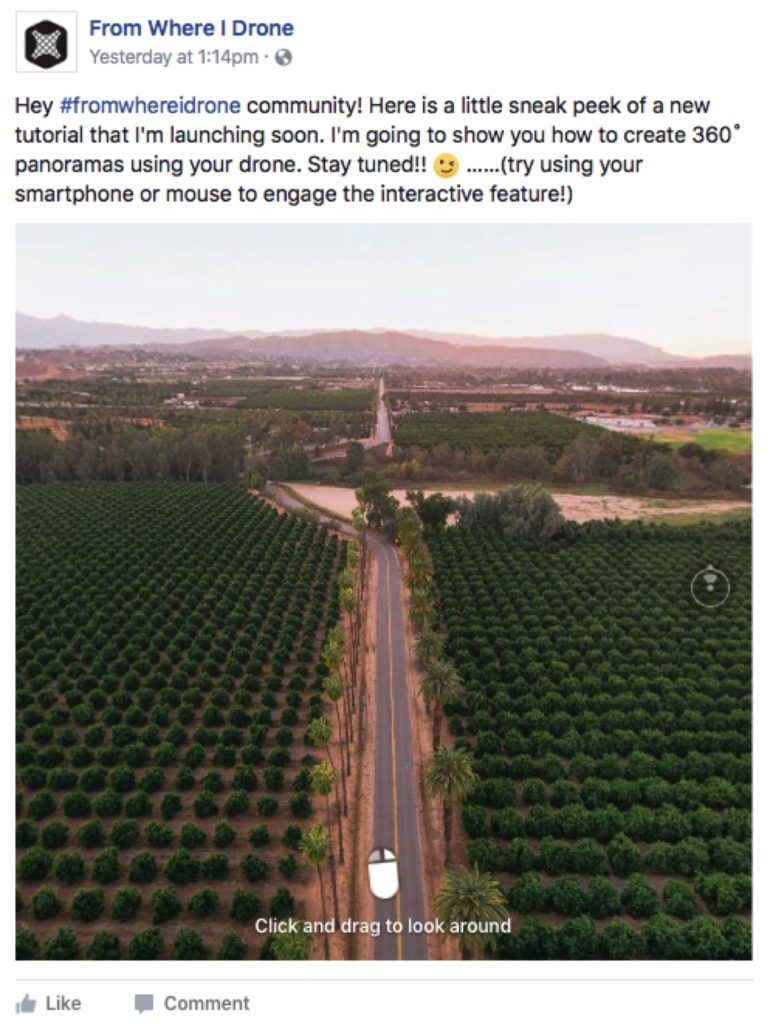 Now if you think that's cool, let's get started!
Capture An Awesome Scene
The first thing that you need to do is you need to get a bunch of photos of your entire scene. If you need help figuring out where and what to shoot, check out my post on how to find awesome photography locations.
Once you are at your location, you need to capture 20–26 or so photos of your scene that have at least a 30% to 40% percent overlap from image to image.
This will make stitching the photos together in post much easier because the computer will have more pixel data to match from image to image for the stitching process.
You can capture the photos manually just make just that you have your grid overlay lines turned on so that you can track the overlap from image to image.
Quick tips: take your pictures within the same window of time so that the light is consistent from photo to photo and capture your imagery when there is little to no wind.
If that sounds a bit overwhelming or like too much trouble, a much easier option is to do what I do and just buy an app called Litchi.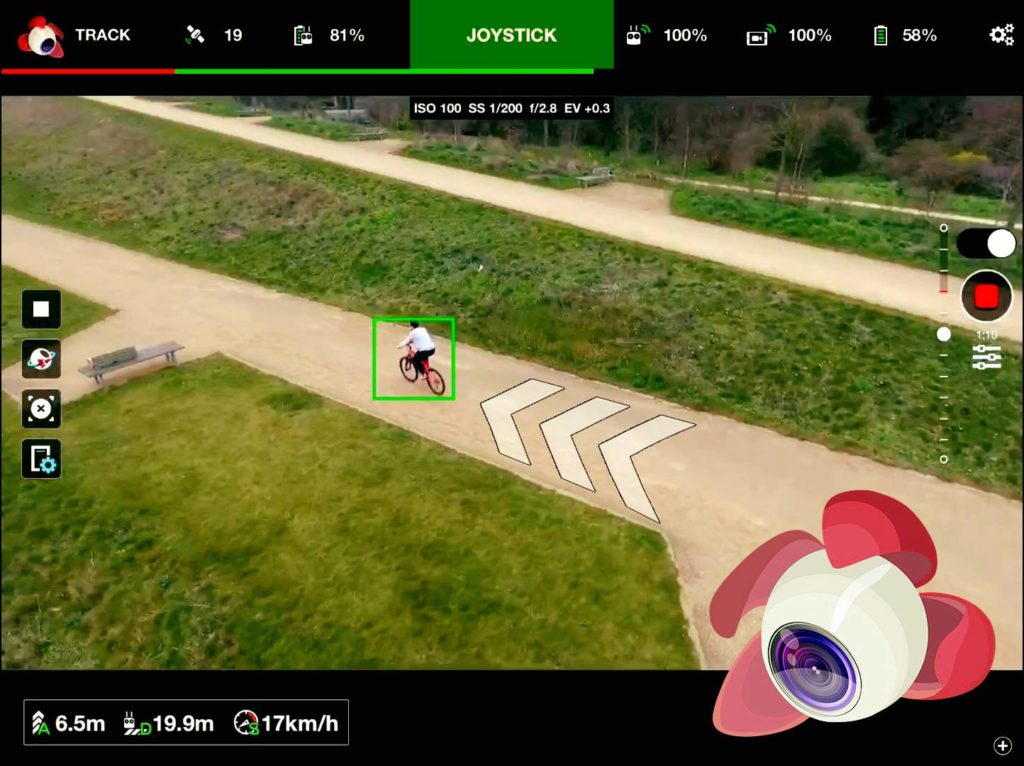 Litchi is amazing because it captures all the images I need for a panorama automatically. Just so you know Litchi cost $23. There are some other apps that can do similar things so it might be worth checking out the following options as well to see what works best for you:
How To Capture Images Using The Litchi App
If you go the Litchi app route all you need to do it open up the app, take your drone up in the air and then make sure that you switch the camera setting from auto to manual before capturing your images.
You do this by clicking on the button right below the shutter button on the right hand side.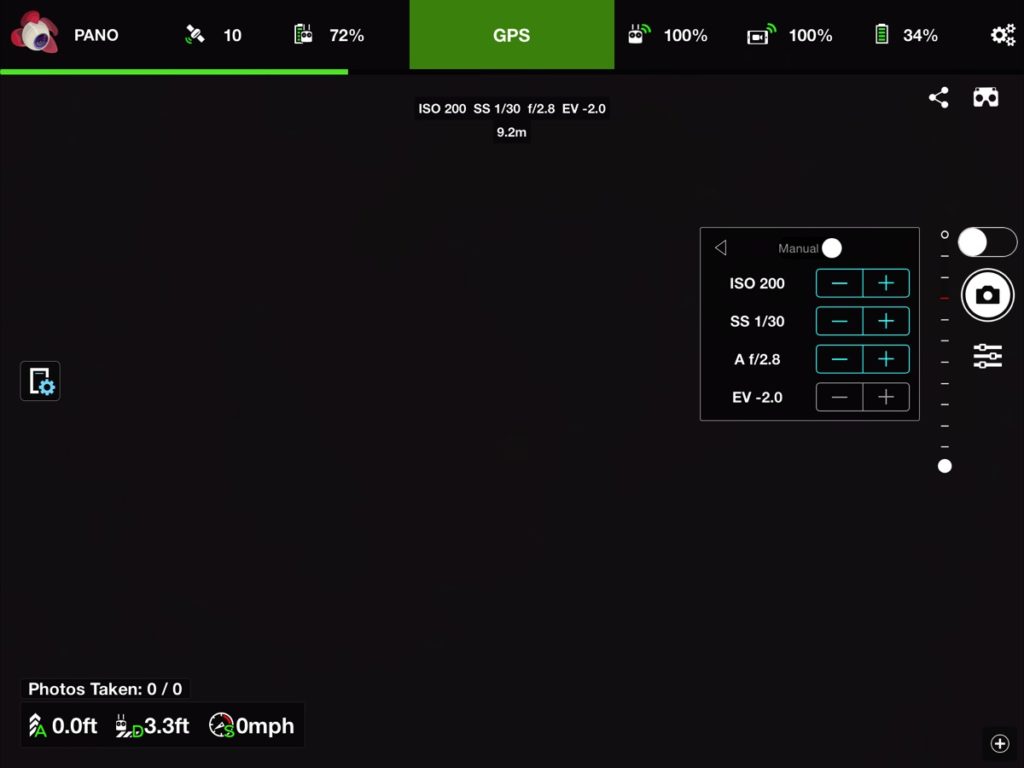 Make sure you do this very important step so that your exposure, ISO and shutter is nice and consistent from photo to photo.
Once that is set, click on the Litchi logo up in the top left corner and choose PANO.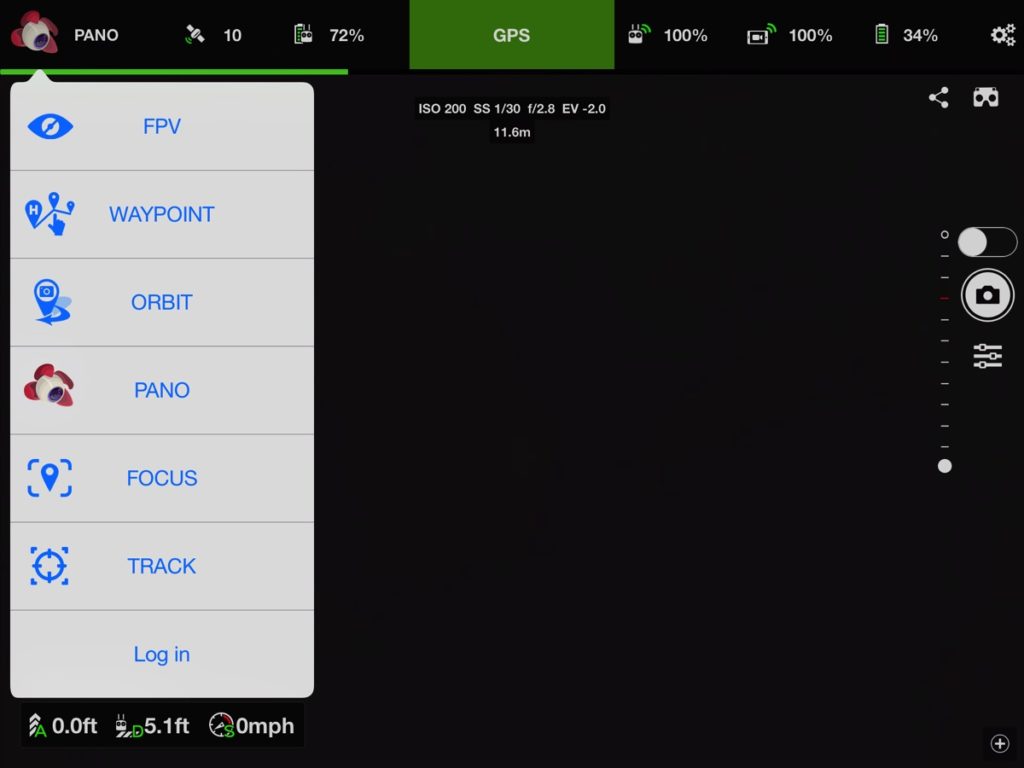 Then click the PANO settings button on the middle–left hand side of the screen (the icon looks like a little tablet and gear cog).
If you want, you can go in and make some tweaks to how it will capture the panorama but I tend to just leave everything at the default setting which is 3 rows and 8 photos per row and I have had no problems going that route.
Next, click on Start down at the bottom to begin the process of capturing all the image.
Once started, the Litchi app will take control of the drone's camera and automatically yaw and pitch the gimbal all the way around to capture your entire scene in 26 images.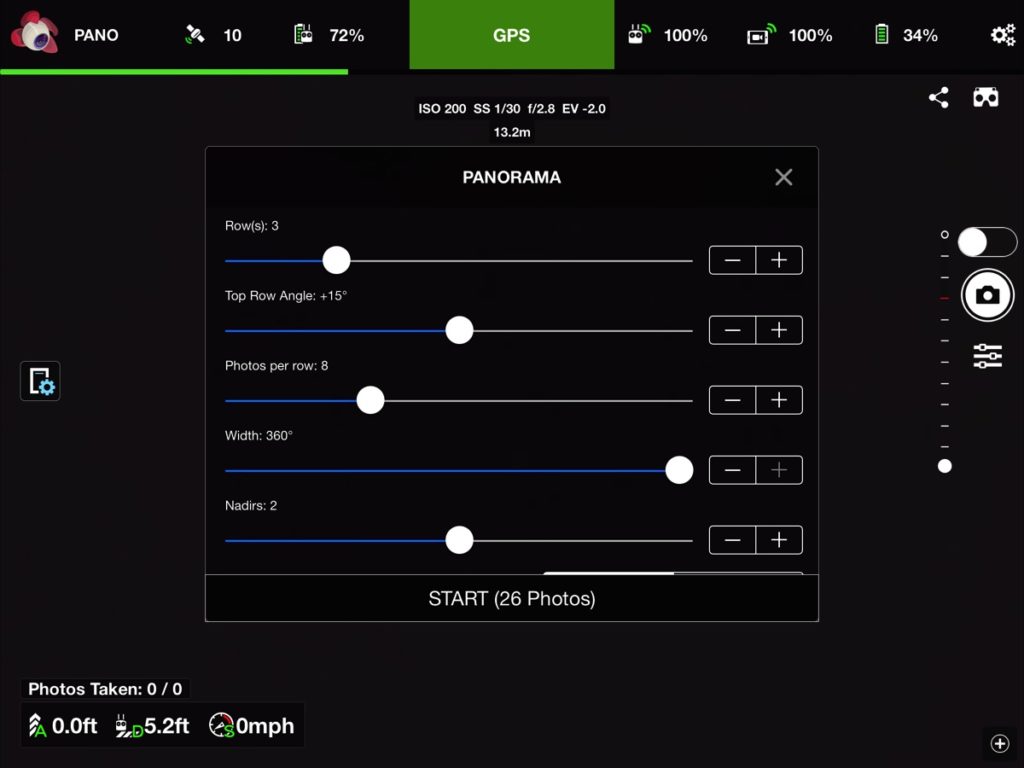 While Litchi is snapping photos just hang tight for about 2–3 minutes until the drone is finished capturing all the images that you will need for the panorama.
Panorama Stitching Software (free & paid)
Below I will do a quick overview of a few of the options for actually stitching all your images together.
Demander (free)
If you are on a tight budget, try doing a search for some free 360 pano software or check out the free web app Demander which let's you upload your images and view your panorama inside a web browser.
The downside to Demander is that it is missing some of the advanced features that I really like to use but it is still worth checking out.
PTGui
I purchased a piece of software called PTGui to help me make my panoramas. PTGui is great because it makes creating advanced panoramas really easy to do but it isn't cheap. It comes in at $87 however it is less expensive than most of the other top paid options. There is a free PTGui trial so you might want to check that out before spending any money.
I went with PTGui because of the price, it's fast, I like the interface, and it has a lot of panorama stitching options. There are however other paid stitching software applications that might be worth checking out such as:
Stitching Photos Together Using PTGui
Below I will walk you through the three main steps for creating your panoramas using PTGui.
Step 1: Load in the Photos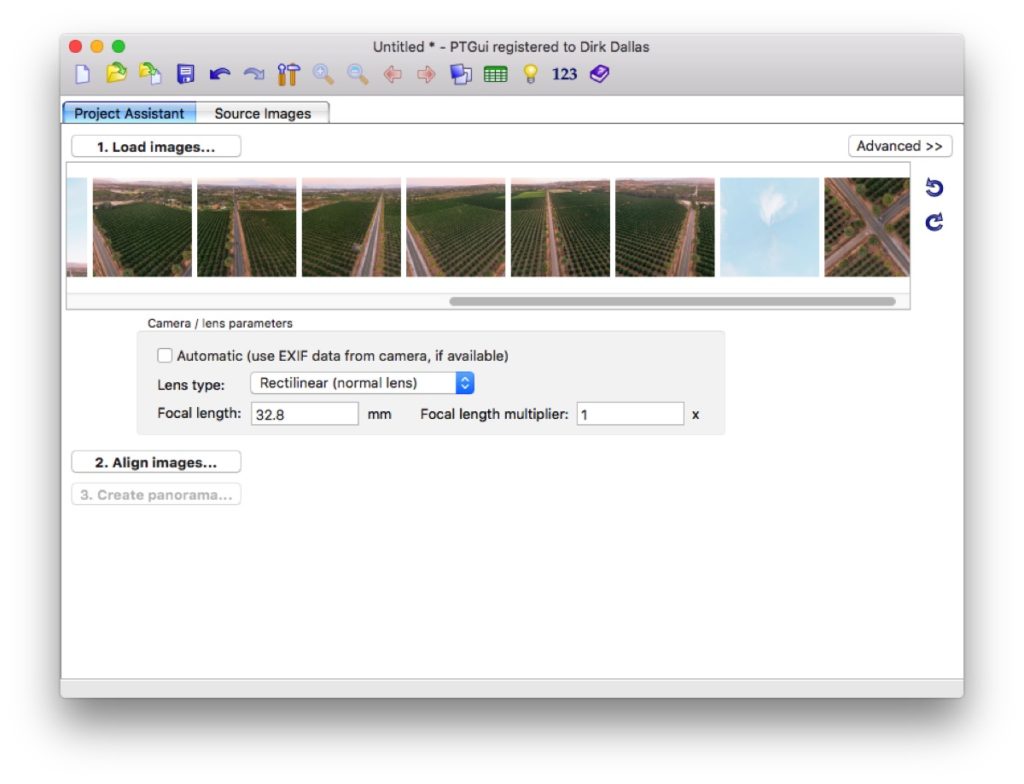 Open up PTGui and load in all 26 images by dragging and dropping them in the window.
You'll then get a pop up asking what camera was used.
Depending on what camera you shot with, it will either autoload the info based on the EXIF data or you can manually enter it in or just use the wide, normal, or telephoto preset.
Step 2: Align the Photos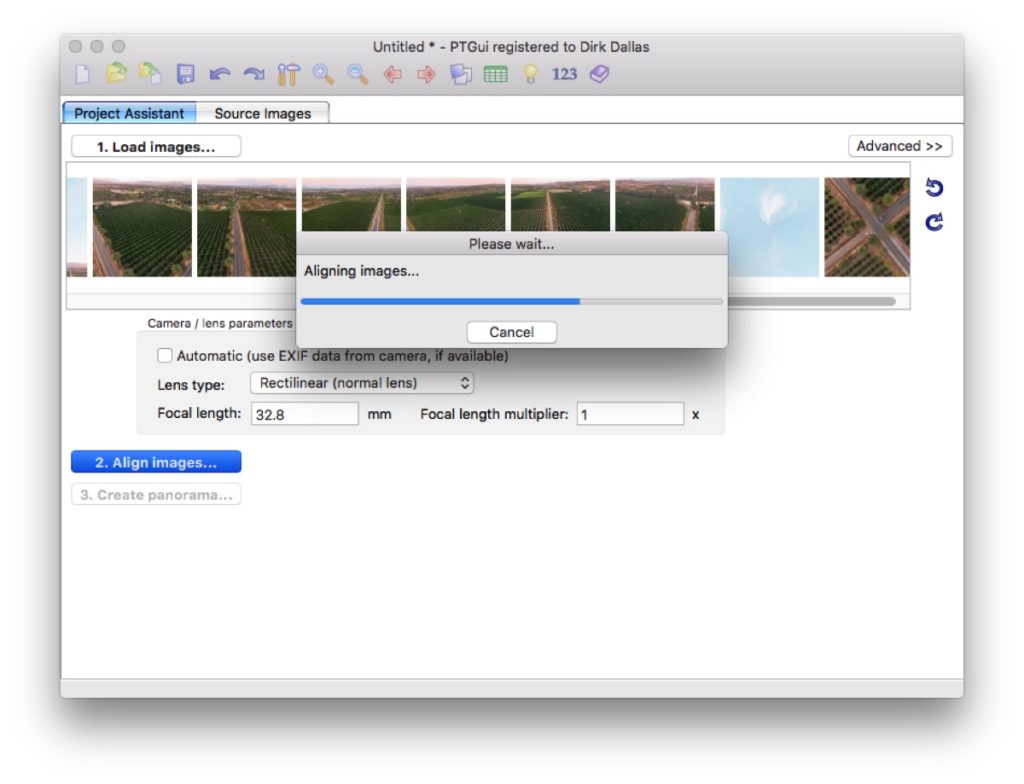 After that click on Align Images… PTGui is then going to analyze all the images find sections that match and then it will automatically stitch those sections together.
Once that is done click over to the Preview Tab to see a low-res version of what your panorama is going to look like all stitched together.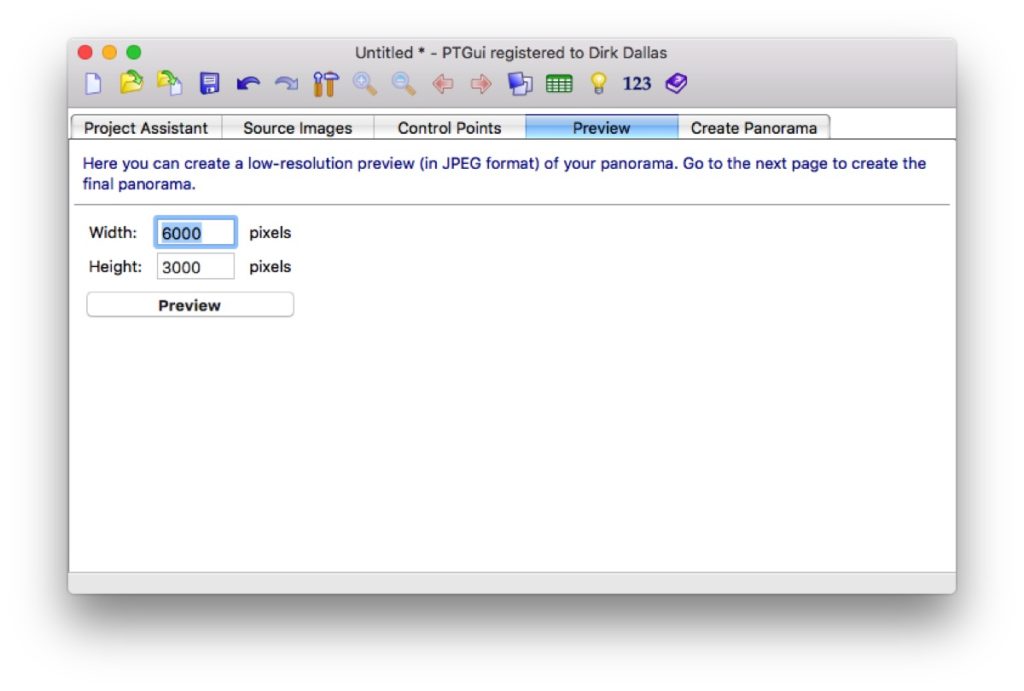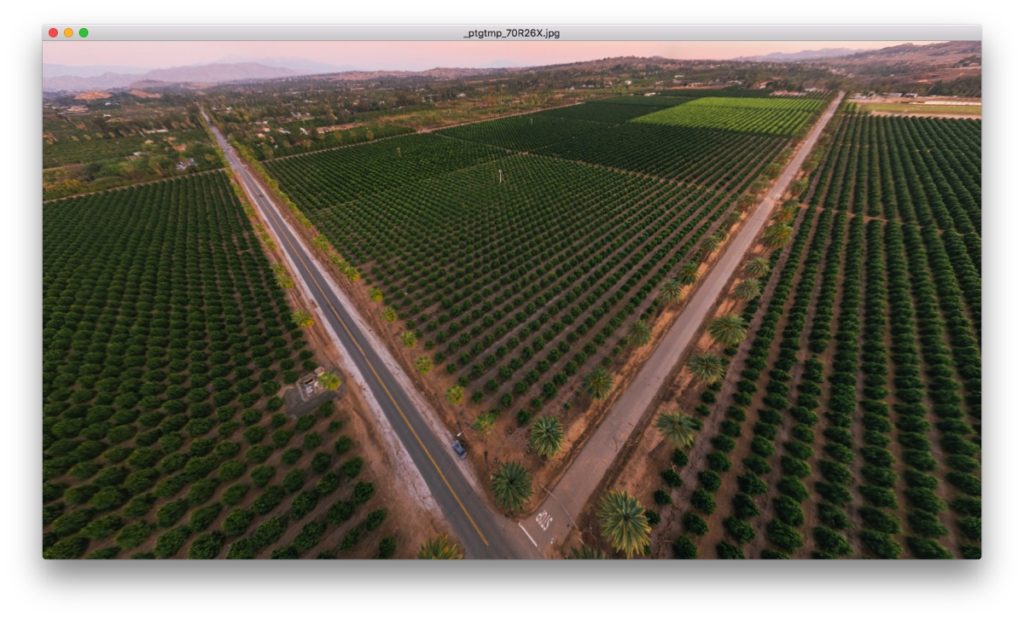 Once the preview window pops up, use you mouse to look all around the panorama. While previewing the image if you tilt all the way up you'll likely see a big black hole in the sky which you can just fix with Photoshop using the Content Aware and/or Clone Stamp tools. Just export out a .TIFF file using the export option below so you maintain all the pano data associated with the file.
I highly recommend you watch the video tutorial at the very top of this post to see how I do this particular step because it's a bit too hard to explain using just words.
Step 3: Create Panorama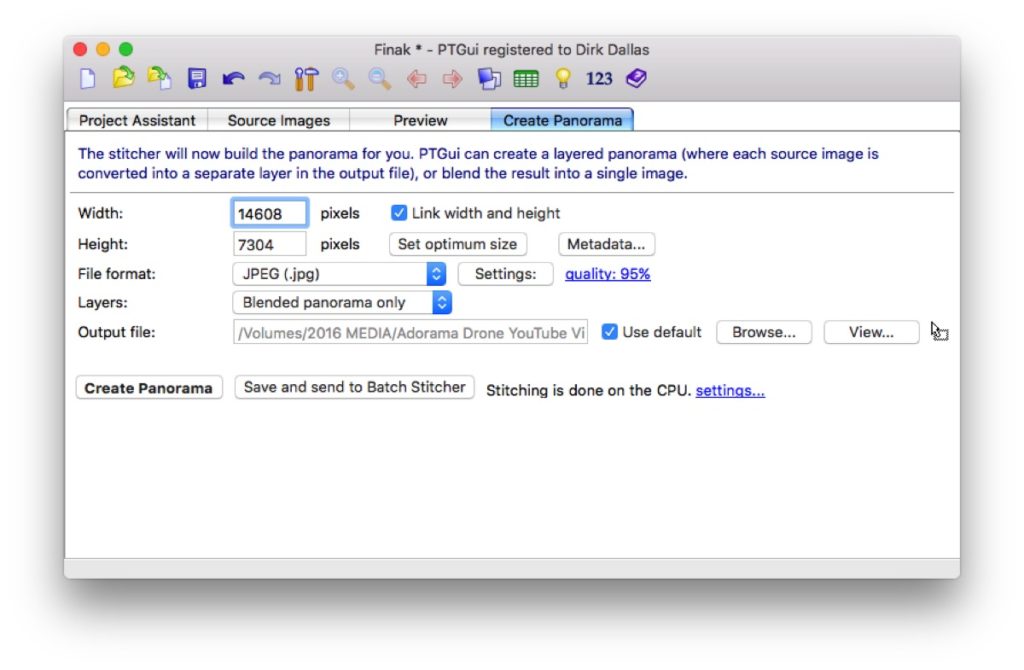 Once you feel like your pano is looking good, tab over to Create Panorama and click set Optimum Size and quality 95% so that you get a super high-res image panorama.
If you need a smaller file, then just change the width and height settings and the quality in the middle of the window.
If you're going to just post this to a website like Facebook then select JPEG for the file format.
Lastly, select what folder on your computer you want to output this to and then click Create Panorama.
Once it is done processing the file, all you need to do now is upload it to Facebook and Facebook will automatically set it up to be interactive for people that have a smartphone or mouse.
Hot tip, make sure in Facebook you click the little edit icon before publishing it so that you can select the exact angle people will first see when they scroll to your post.

Create A Webpage of Your Panorama
One more cool output option that PTGui gives you is the ability to publish your panorama to a website so that people can view it independent of Facebook.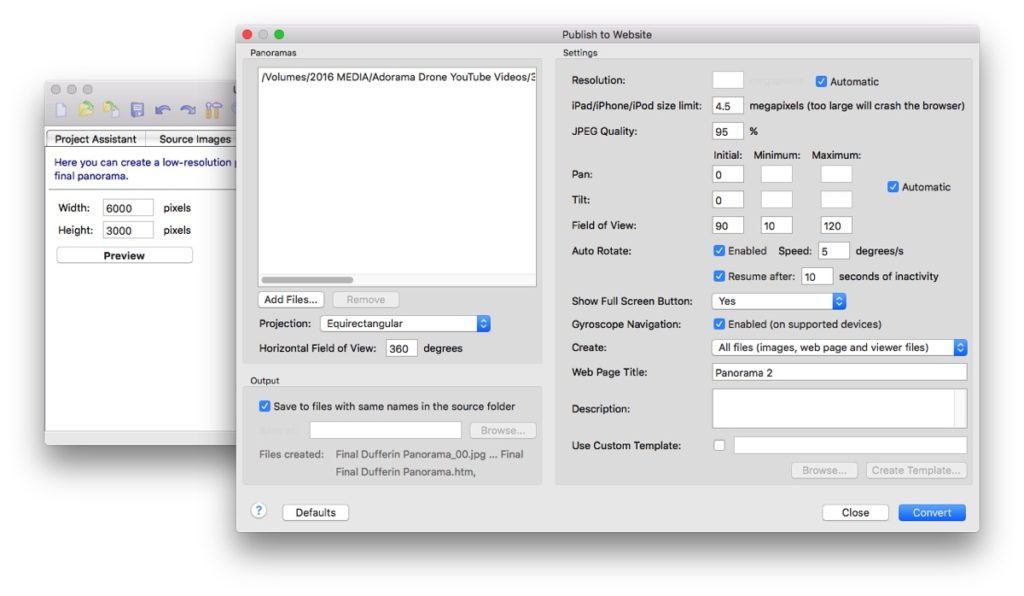 All you need to do is go to the very top of the menu bar in PTGui and select Tools > Publish To Website. Then drop in the high-res panorama JPEG you made, select the quality you want and where you want to save it.
PTGui will then export out all your images and generate an HTML file. All you have to do is upload that whole folder to your web server  and you're good to go!
Conclusion
Well, I hope that was helpful to you! If you happen to create any 360˚ interactive panoramas please post a link to them down below so that I can check them out. I would love to see what you make!
Lastly, if you enjoyed the post could you please do me a HUGE favor and give it a thumbs up and share it on social media for me? Just click the big social media icons at the very top or very bottom of this page.
[clickToTweet tweet="Check out this awesome tutorial: How To Create Interactive 360˚ Aerial Panoramas Using A Drone http://fromwhereidrone.com/how-to-create-interactive-360-aerial-panoramas-using-a-drone" quote="If you enjoyed this tutorial would you consider helping me out by sharing it with your friends?" theme="style3″]
This blog is simply a hobby and labor of love and your support truly does help in keeping this website going!
Thanks so much!
Have a question or comment? Feel free to contact me directly at [email protected] or just drop a comment down below.
About this site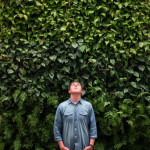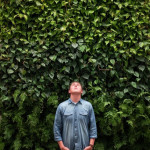 Dirk Dallas, also known online as @dirka, is the founder and curator of From Where I Drone, a blog dedicated to inspiring and teaching drone pilots how to capture better aerial photos and videos.