Posted on November 19, 2016
How to create an aerial panorama with a drone using Adobe Lightroom
Today I'm going to show you how to create an ultra wide aerial panorama (pano) using your drone.
In both the video above and post below I walk you through each step for creating a basic aerial panorama.
What is a panorama? Basically it's a large photo that was stitched together using multiple overlapping images. The resulting effect is a very wide view of a scene.


For instance with the pano above, I used a total of 6 overlapping images or tiles to create this very wide photo.
For more pano inspiration check out this website here.
1) To take a great pano from the air there are a couple of things you will want to keep in mind
Lock your camera's settings
Make sure you lock the white balance and exposure so that your photos look nice and consistent from image to image.Otherwise your photos will have varying lighting from tile to tile and the resulting image will likely look poor.
Plan out your composition.
You want to make sure you have at least a 30%–40% overlap from photo to photo.So turn on your overlay grid lines inside your drone's app so that you can be sure you nail the 30% overlap as you frame up each tile.
Hot tip: If you want help with the above process then check out Litchi which is a great drone app that can automate the entire image capturing process for most DJI drones like the Phantom, Inspire, and Matrice drones.
2) Panorama Editing Software
There are a bunch of stand alone programs out there that can help you create panos. I like to use Adobe Lightroom just because I want to keep things simple since Lightroom is already the main program I use to process and edit all my photos.
However, there are several alternatives out there. If you are looking for more advanced pano software that will help you take your panos to the next level with 3D, virtual reality or interactive 360˚ features then check out the options below:
3) Lens Correction
Once you have your images inside Adobe Lightroom, make sure you apply lens distortion correction by going to the lens correction module. You can select the preset that matches your drone's camera.
So in my case I will select the DJI Phantom 4 preset since I captured the images using that exact drone. What Lightroom will do is create a cleaner stitch by removing any weird bulging effects that were created from the wide-angle lens.
Next I will adjust the lens vignetting slider which allows me to remove the dark spots in the corners of my image.
Once you do that COPY the settings and PASTE them onto the other photos that will make up your pano.
4) Merge All The Photos
After you perform these basic edits on the images, make sure they are in the order the way you want the pano to look from left to right.
Then select all of them and go up to PHOTO > PHOTO MERGE > PANORAMA. You can also get to the PHOTO MERGE by right clicking on the photos.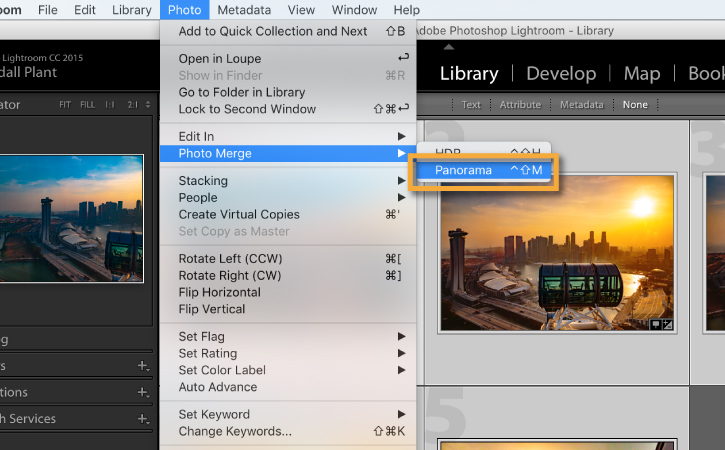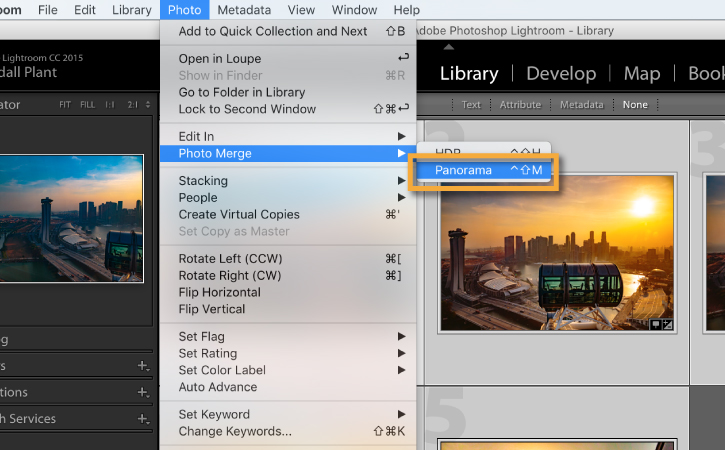 Lightroom will then pop up with a Panorama Preview where you can select several pano modes. I suggest you try each one but I generally just go with Spherical and then leave auto crop uncheck.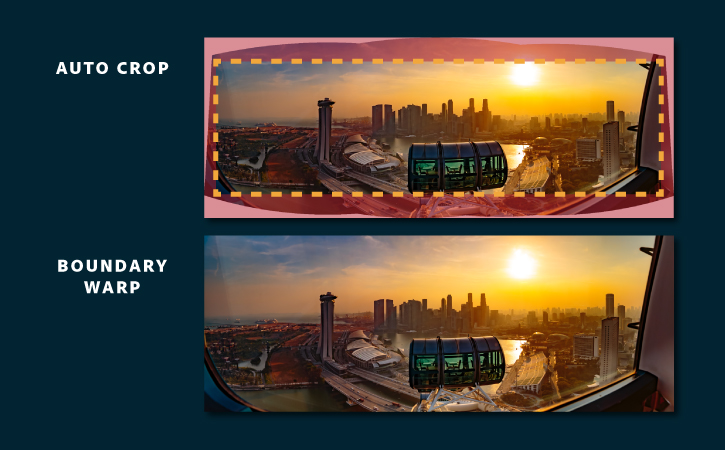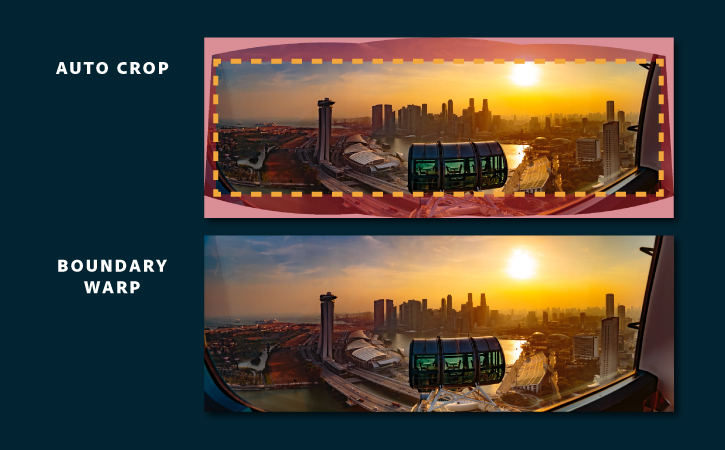 Then I bump the BOUNDARY WARP all the way up. BOUNDARY WARP is a magical feature that stretches all the edges and fills the entire frame for you so you don't have to crop out the white areas which result in a smaller image.
After all of that go ahead and select MERGE and Lightroom will begin processing your image. Once Lightroom is done you can go ahead and color grade your pano.
5) Free Presets
After making a basic flat edit, I like to start exploring my editing options by using one of my free Adobe Lightroom presets which you can download for free by clicking the link here.
Conclusion
Once you have your pano edited how you like it, all you need to do is export it out and share it with the world! Be sure to include a link down below in the comments so I can see what you create!
Well I hope this post gives you a better idea of how you can create panos using a drone! If you're looking for more Adobe Lightroom tutorials then check out this post Making creative edits with Adobe Lightroom and How to edit your photos in Adobe Lightroom or if you're looking to take your panorama game to the next level then check out this more advanced tutorial called How To Create Interactive 360˚ Aerial Panoramas Using A Drone.
Lastly, if you enjoyed the post could you please do me a HUGE favor and give it a thumbs up and share it on social media for me? Just click the big social media icons at the very top or very bottom of this page.
This blog is simply a hobby and labor of love and your support helps keep this website going!
Thank you!
Have a question or comment? Feel free to contact me directly at [email protected] or just drop a comment down below.
About this site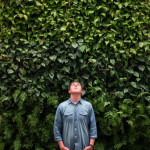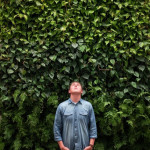 Dirk Dallas, also known online as @dirka, is the founder and curator of From Where I Drone, a blog dedicated teaching drone pilots how to capture better aerial photos and videos.