7 Must-Have Apps for Drone Pilots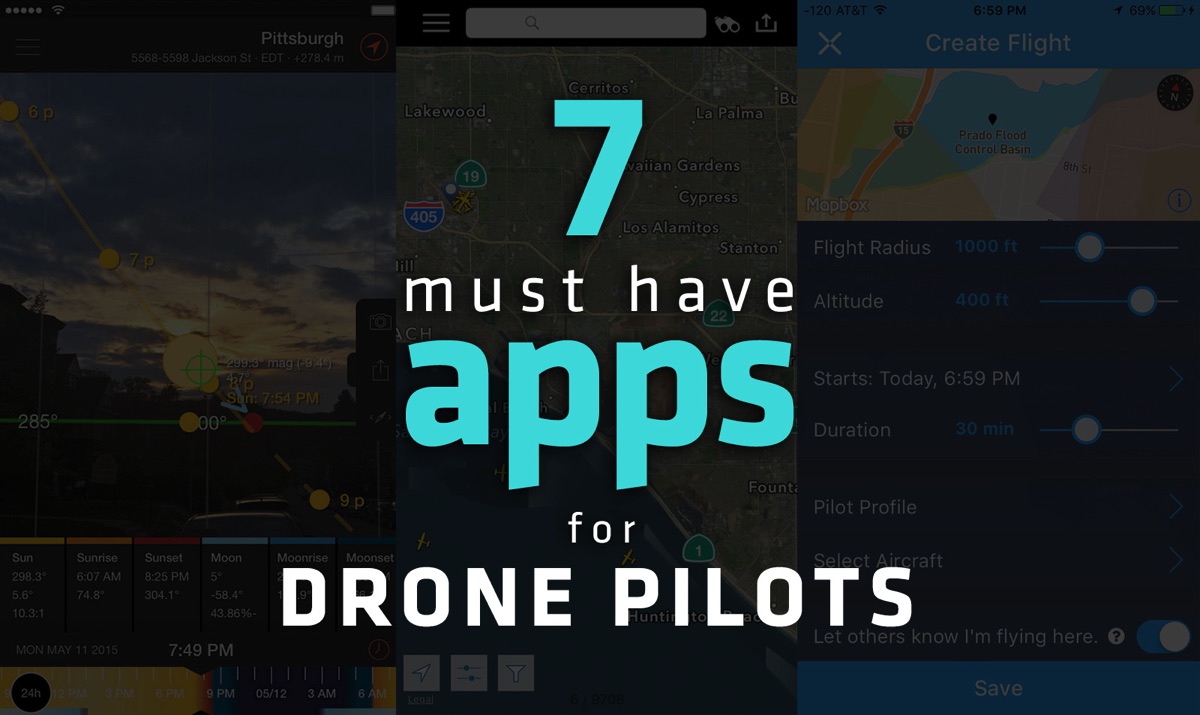 Did you just get a new drone? Or are you looking for ways to help you be a better, more informed drone pilot? Below is my must-have list of my favorite smartphone apps for drone pilots.
The apps below help me check weather conditions, correct image distortion, scout areas where I can and cannot fly and how to find the best light at a location. Take a peek below and let me know what you think!
One of my favorite free apps to check before planning a flight is UAV Forecast. Basically this app allows you to check the weather to make sure the skies are in the best possible conditions.
UAV Forecast gives you a clear breakdown of local wind speeds (which is really helpful to know), the chance of rain, cloud cover, visibility and local temperature. Another handy feature is that you can view hourly forecasts for the day and week which allows you to plan ahead.
There is also a more advanced feature that monitors the KP Index which helps you determine the chances of you experiencing interference with your GPS, on-board electronics and radio control signals due to geomagnetic disruptions caused by solar activity.
This is usually a non-issue unless you are flying at night or at higher latitudes (further north or south on the earth) but it can still be handy (more info about the Kp Index can be found here).
iOS link / Android link
2) Sun Surveyor – $9.99 or free "lite" version
This is my go to app for planning flights where I want to capture imagery at specific times, like during sunrise, mid-day and sunset. It basically allows you to see exactly where the sun will be at any location and any given time, for example will the light be low and angled for long shadows or directly overhead for small shadows.
This allows you to perfectly time where the best light and shade will be for capturing aerial imagery. Sun Surveyor also gives you golden hour & blue hour times so you can figure out how much time is left until the magic light fades.
There is a really fun live view mode that uses augmented reality as well as a really helpful street view mode that overlays the path the sun will move over the course of the day.
You can first try out the free version, Sun Surveyor Lite, and then upgrade to the full version to unlock more of the fancy features discussed above.
iOS link / Android link
I've covered the Hover app more in more depth in a previous post which but to give you a brief summary, this app does some of the same things as UAV Forecast (although I prefer the user interface of UAV Forecast more).
However, it goes a step further and allows drone pilots to store information related to their flights as a digital flight log. You can input locations where you are flying, the duration of a flight, battery usage, and a bunch of other info and then the app will generate a report which you can then email to yourself.
One of my favorite features of the Hover app though is the No-Fly Zone Map which gives you a simple indicator letting you know if the area you are in is safe to fly or not. It does this by pulling together all the no fly zones and temporary no fly zones from the FAA, the US military and US National Parks.
Because of that, I've personally found that the map data from the Hover app provides more helpful, accurate and extensive data than the ones that come built into native apps from the big drone manufacturers.
Lastly, and this is more of an awesome bonus feature, the app has a great news feed that aggregates the top news from various drone websites.
iOS link / Android link

4) Flightradar24 – $3.99 or free "lite" version
Flightradar24 is a fascinating global flight tracking app that provides you with real-time information about thousands of aircraft around the world.
I specifically like to check Flightradar24 before I takeoff to see if there are any helicopters or airplanes flying nearby. While aircraft are suppose to stay clear of flying below the 1,000ft/500ft minimum safe altitude limit (except during takeoff/landing of course) there shouldn't be any close calls if everyone is following the rules since drone pilots are suppose to fly under 400ft.
But this app is helpful for me because I have seen police helicopters flying in my city at very low altitudes for whatever reason and I don't want to cause any confusion like the one some New York drone pilots experienced.
Basically if there is an aircraft flying nearby at a low altitude I either wait before launching my drone or I bring my drone down to a very low altitude to avoid any confusion.
This is done to prevent any misconstrued reports from the media since many of the near misses with planes that make the news are largely sensational and exaggerated.
iOS link / Android link
I've written an extensive article on how I personally use Google Earth to scout interesting locations to fly at, which you can read here, but I tend to use it to get a better idea of an area so I can figure out where I might be able to take off in a safe and private spot away from telephone poles, trees and people.
I also like to use it when I am away from my laptop and just need to figure out what the shortest path might be to a certain spot at the beach or where I should park my car when I am at an unfamiliar location. Google Earth is really helpful because it allows you to navigate around in 3D any where on Earth via satellite imagery.
The satellite images allow you to view maps in a dynamic way because it includes 3D data and images of streets, terrain, buildings and landmarks.
iOS link / Android link
The AirMap app provides probably the most extensive (and sometimes unhelpful) information about where you can and cannot fly.
I say this because unlike their very useful website, the app does not let you filter through B, C, D and E airspace, private airports, and buildings that have a heliport. This is a problem because that means a lot of the airspace will be marked as not safe to fly, unless you are in the middle of nowhere.
I'm sure this will change with a future update, but the reason why I am still including AirMap as a top recommendation is because it does provide you with the contact information of any nearby airports.
If you don't know what the drone rules are then definitely stop what you are doing right now and go read this post , but as most of you probably know, you can fly within 5 miles of an airport as long as you first contact the control tower/airport manager and inform them of your flight.
So Airmap is really helpful because it let's you quickly find this information without having to do a bunch of frustrating Google searches to track down a phone number (I am saying this from lots of experience).
Lastly, if you happen to be flying near an airport that has signed up to be a part of their new notification network, then you can easily and quickly type in your flight information and then send it off with just a tap of a button, all without having to dial any numbers. Now that is pretty rad!
iOS link

The SKRWT app (pronounced like "screw it") is so helpful to me as an image-maker since most imagery that is captured from my drones has some type of distortion issue to deal with due to the types of cameras I am using.
Basically what the SKRWT app does is it allows you to correct the horizontal and vertical distortion that is commonly found in drone imagery, which as a result, gives your photos straighter horizon lines and improved symmetry.
The way the app does this is via three main features. The first two being that you can tilt any photo on just its horizontal axis or vertical axis. The last being that you can change how a photo looks by pulling the center closer or farther away, which is really helpful for those of you shooting with a GoPro. All tweaking is done using a finely tuned precision wheel so you can incrementally adjust with finesse.
Finally, there is a specific feature that allows you to select how the SKRWT app should process any corrections by letting you select if the imported photo was from an iPhone, wide-angle, fisheye or GoPro camera. Each camera handles distortion differently so this is a really nice feature for those than want to make precise adjustments.
The developer is very involved in the community and a fantastic photographer himself, so I see this app getting even better as time goes on.
iOS link / Android link
Alright, well that is my must-have list of apps for both iPhone and Android devices.
I'm always on the look out for a great new app so if there is one that I missed or if there is one you think the #fromwhereidrone community could really benefit from that is not included above please leave a comment below and tell us about it!
Lastly, if you enjoyed the post could you do me a HUGE favor and share it on social media for me? Just click the big social media icons. This blog is hobby and simply a labor a love and your support helps keep this website going!
Thank you!
Have a question or comment? Feel free to contact me directly at [email protected] or just drop a comment down below.
About the author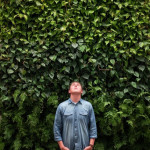 Dirk Dallas, also known as @dirka online, is the founder and curator of From Where I Drone, a blog dedicated teaching drone pilots how to capture better aerial photos and videos.