More Airspace for U.S. Recreational Drone Pilots Allowed Using 'LAANC'

There was some big, game-changing drone news recently announced by the US Federal Aviation Administration (FAA)!
Recreational drone pilots (those who are flying their drones for fun) can now access the FAA's LAANC (Low Altitude Authorization and Notification Capability) system. This is the same system that Part 107 drone pilots use to request automated airspace authorizations to fly in controlled airspace when they are doing commercial work (making money with their drone operations).
This is a big deal for US-based drone pilots. Up until now, recreational flyers weren't legally allowed to fly in controlled airspace (which includes most urban areas), which means that much of the airspace has been off-limits to recreational flying. That has now changed.
Now, recreational users can use the free app I use, 'AirMap for Drones' to request and receive near-instant approval to fly in U.S. controlled airspace at many of the airports across the United States (over 591 airports as of right now). This means a LOT more of the sky just opened up for you to legally fly in!
Recreational flyers in the United States can now request access to operate their drones in controlled airspace where airports are nearby, near their homes, parks, and other favorite places to fly that used to be restricted.
How to use the FAA's LAANC system
I know that this might sound a bit complicated but legally requesting authorization is pretty easy. Here is a quick step-by-step guide showing you how to request permission to fly in controlled airspace using the free 'AirMap for Drones':
Step 1:
Log in to the AirMap app on Web, iOS, or Android.
Step 2:
Select the "FAA Recreational Flyers – 44809" ruleset.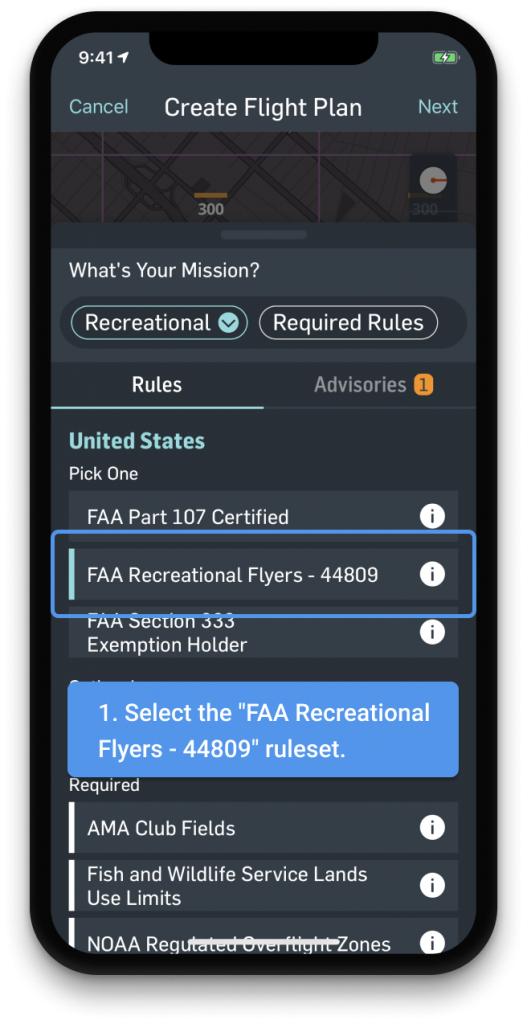 Step 3:
Search for a nearby LAANC-enabled airport. Pan and zoom until you see the individual grids within the airspace ring.
Step 4:
Create a flight plan. Click the "+" on the web app or long-hold in the mobile app to create a flight plan within or across any grid that shows an orange bar over a number.
That number represents the maximum allowable altitude for flights receiving automated LAANC authorization in controlled airspace.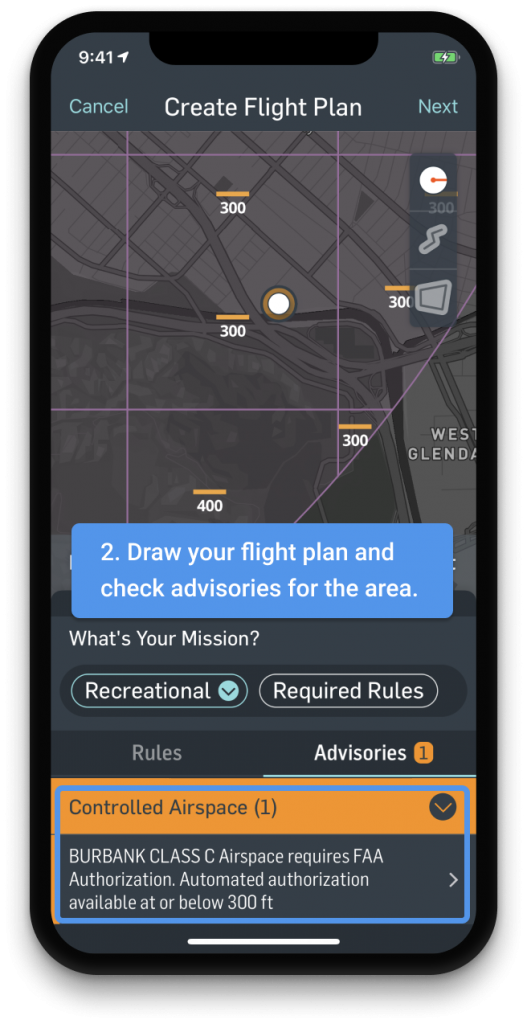 Step 5:
Complete the Preflight Checklist and review your Flight Brief for any rules you may be violating.
Here you can view the status for your authorization request. Once confirmed, select "Submit" to request LAANC authorization for the associated flight plan.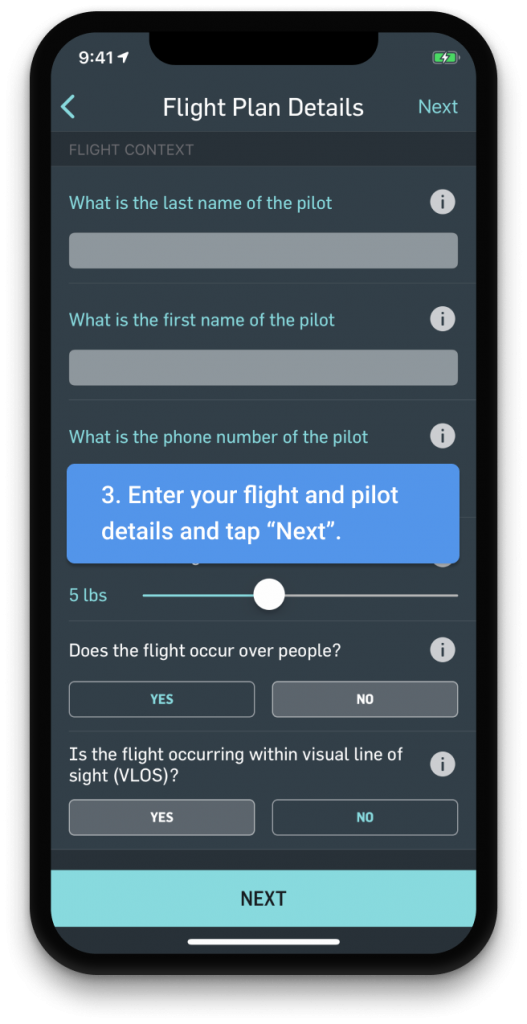 If your flight plan is approved by the FAA upon submission, you will receive an SMS message with a confirmation number, which will be used by the FAA for identifying the flight.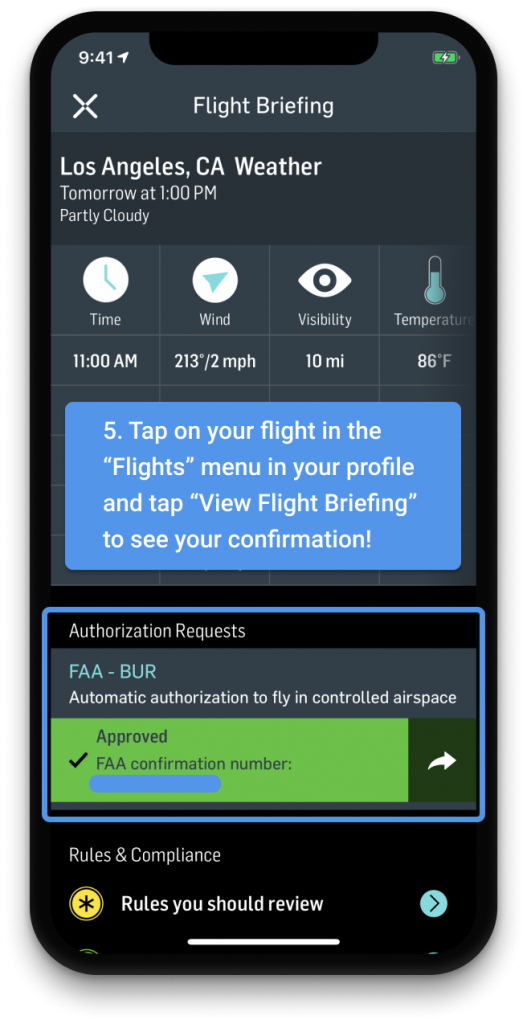 You can also view your authorization confirmation in the Flight Brief view of the AirMap app.
If necessary, you can download a LAANC Notice of Authorization as a PDF directly from the app to have that extra peace of mind if you need to provide proof that you are legally flying (example below).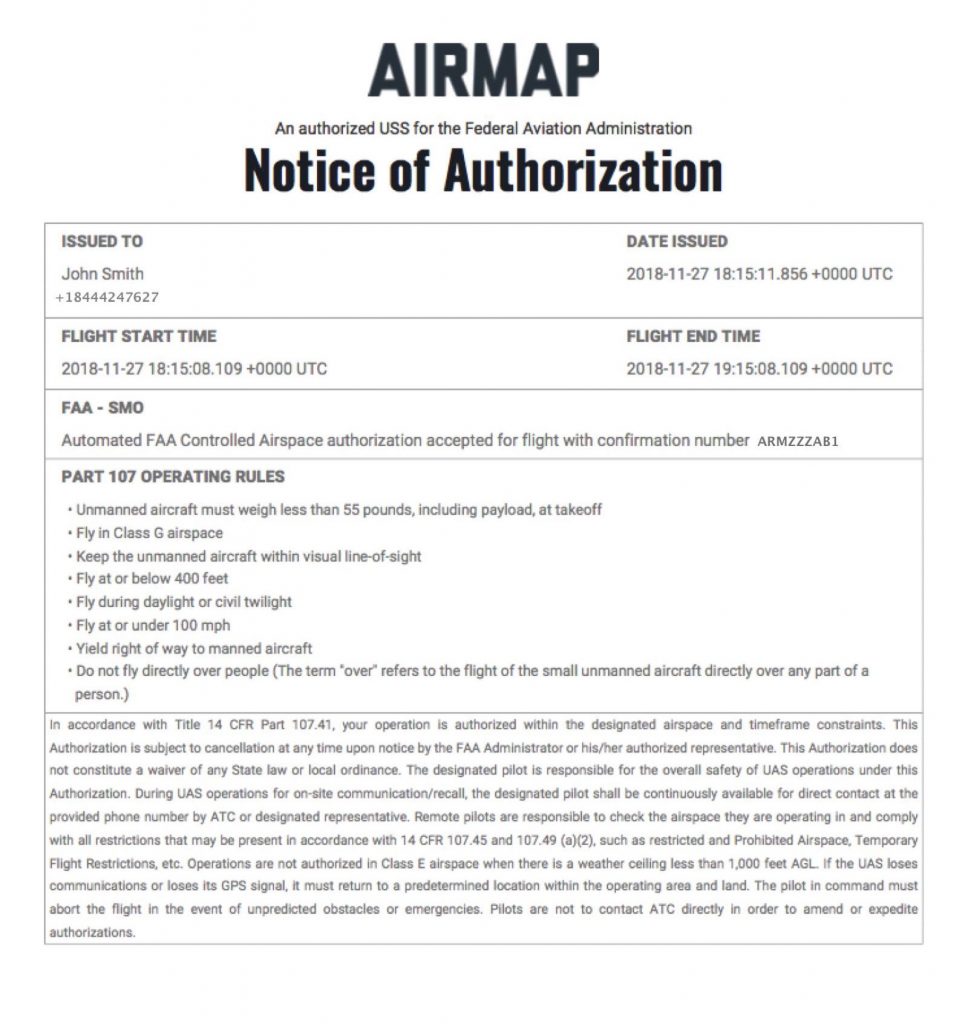 Wrapping up…
It's exciting to see the FAA providing more ways for drone pilots of all types to legally fly in US airspace. I think this is a great step in the right direction to keep people flying responsibly.
To learn more about what the FAA has to say about recreational flying you can visit the FAA's official page here and to access the free AirMap for Drones app click here.
Happy flying!