Posted on January 26, 2016
How to Find Awesome Drone Photography Locations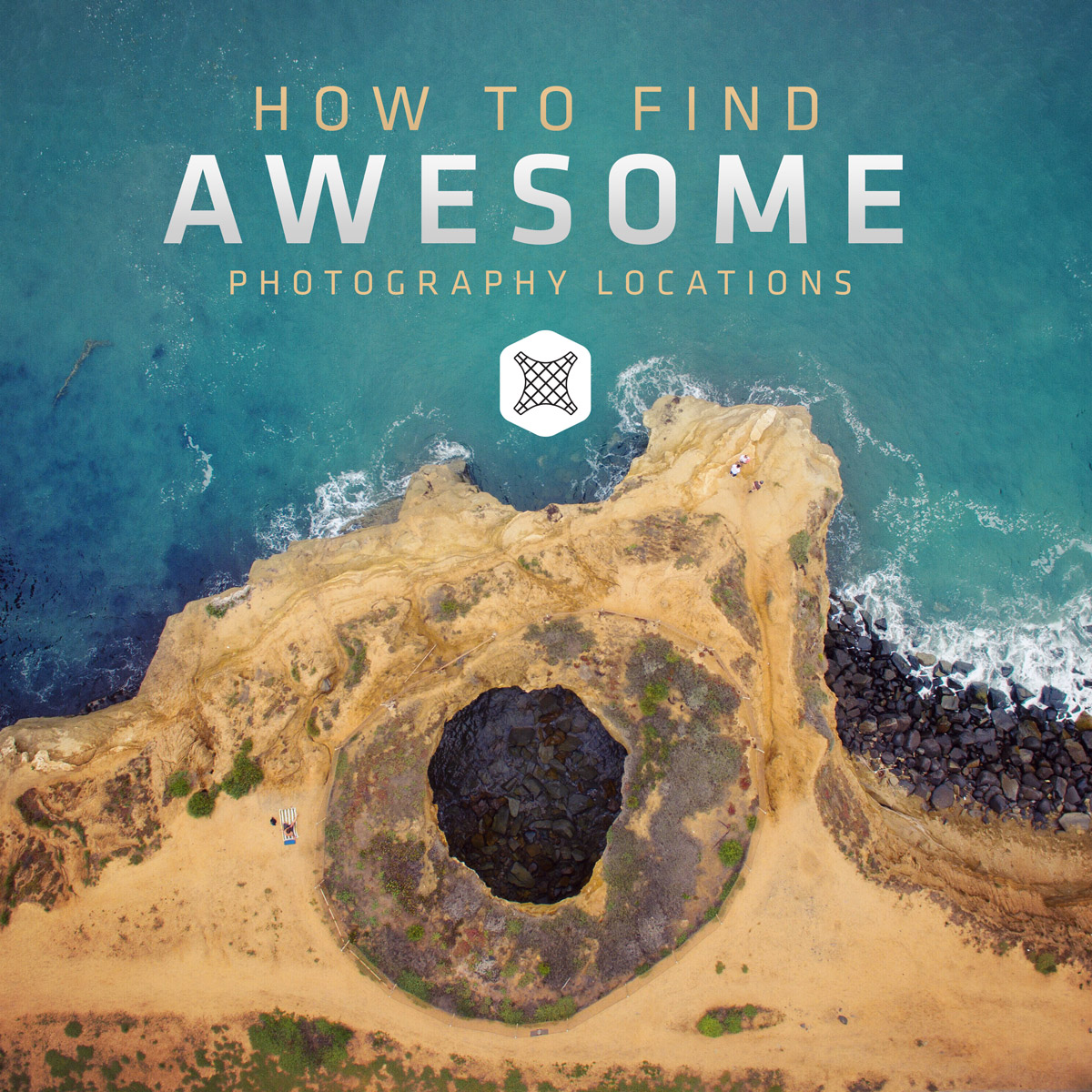 These days the best aerial photographers are the ones who are posting photos of familiar locations from never before seen angles, as well as photos from completely new locations that have been hard to reach before we had drones.
If you're like me, you're always looking for a new angle and location to shoot at and share with the world. But if you're like me you also don't have time to travel all around, flying your drone in a bunch of random spots, taking a chance on a location being a bust. So I wanted to share with you a tool that I love that will help you find awesome drone photography locations.
This is the one tool that has been essential to my photography toolkit.
This free and powerful tool for scouting new aerial locations is Google Earth. Google Earth essentially allows you to fly anywhere on Earth by using stitched together satellite imagery. These satellite images allow you to view maps from all around the world, and include images of terrain, streets, buildings and even views of space!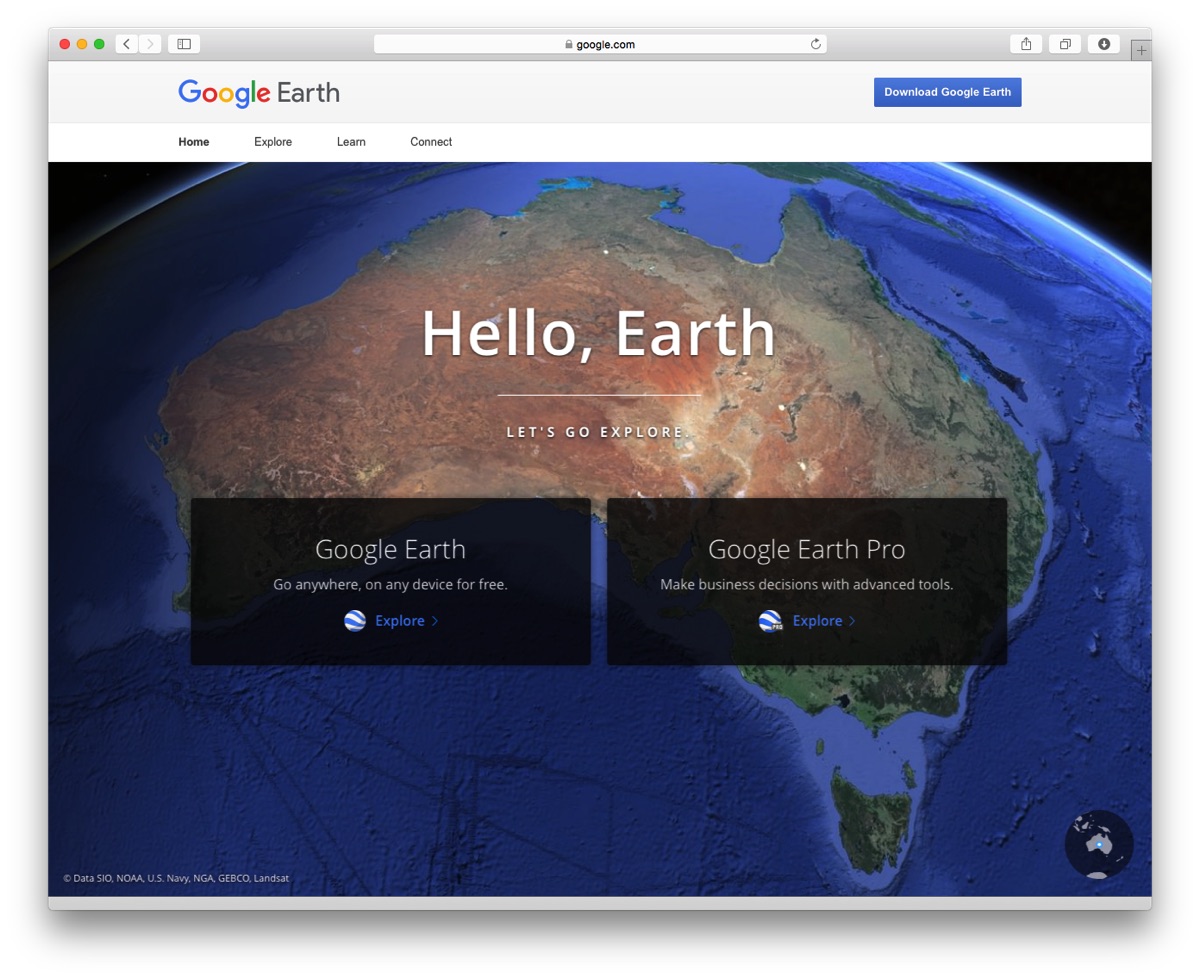 With Google Earth a photographer can quickly look at and pan all around a location and then zoom in to get up close to determine whether or not a location is worth photographing.
Before I shoot a location that I am not familiar with, I always open up Google Earth so I can get a better idea of what the location will look like, not just from the air, but also on the ground.
Google Earth gives you the power to plan out your shoots, helping you to be better informed of the area so you maximize your shooting time.
This is helpful for many reasons. For starters, Google Earth takes the guesswork out of what to expect when arriving at a location. By zooming in on Google Earth you can quickly figure out where a road leads or connects to another road, where you should park (as long as the location is fairly well-traveled), and if there's a tree line, fence, building, wall or private property near by.
When scouting places to shoot, I like to look for any interesting patterns, lines and landmarks that I could show from a unique angle. Then I like to look for an area that is free and clear of people and obstacles so that I can fly in peace and remain focused on flying my drone. Let me give you one specific example from a location I found using Google Earth.
Awhile back I came across this really cool photo taken inside of a cave that was connected to a beach. This cave was unique because it had a huge circular opening at the top.
This was a location I had never seen before but knew I wanted to immediately capture it from above with my drone. I didn't know where this cave was but I decided to do some detective work using Google Earth.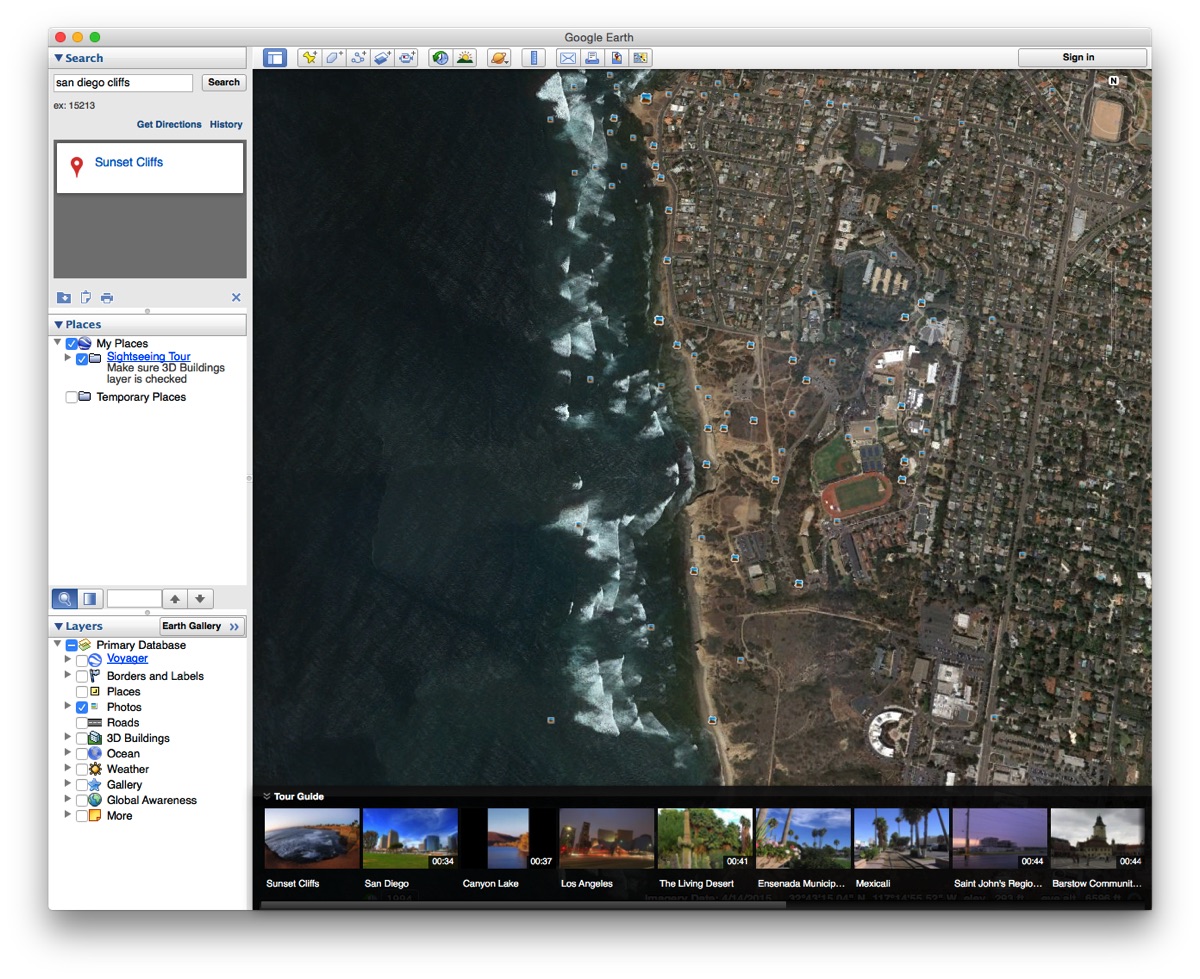 The first thing I had to figure out was where this cave was. After some searching I figured out that it was in San Diego, CA but I didn't know exactly where in San Diego. Because I'm somewhat familiar with the area, I took a guess and typed in the name of the area I thought it might be in and just started scrolling along the San Diego coast.
I scrolled around to see if I could find a view of a rocky cliff with an opening on the coast. Sure enough, a few moments later I discovered a huge circular opening in a cliff area along the shore and I knew I hit the jackpot.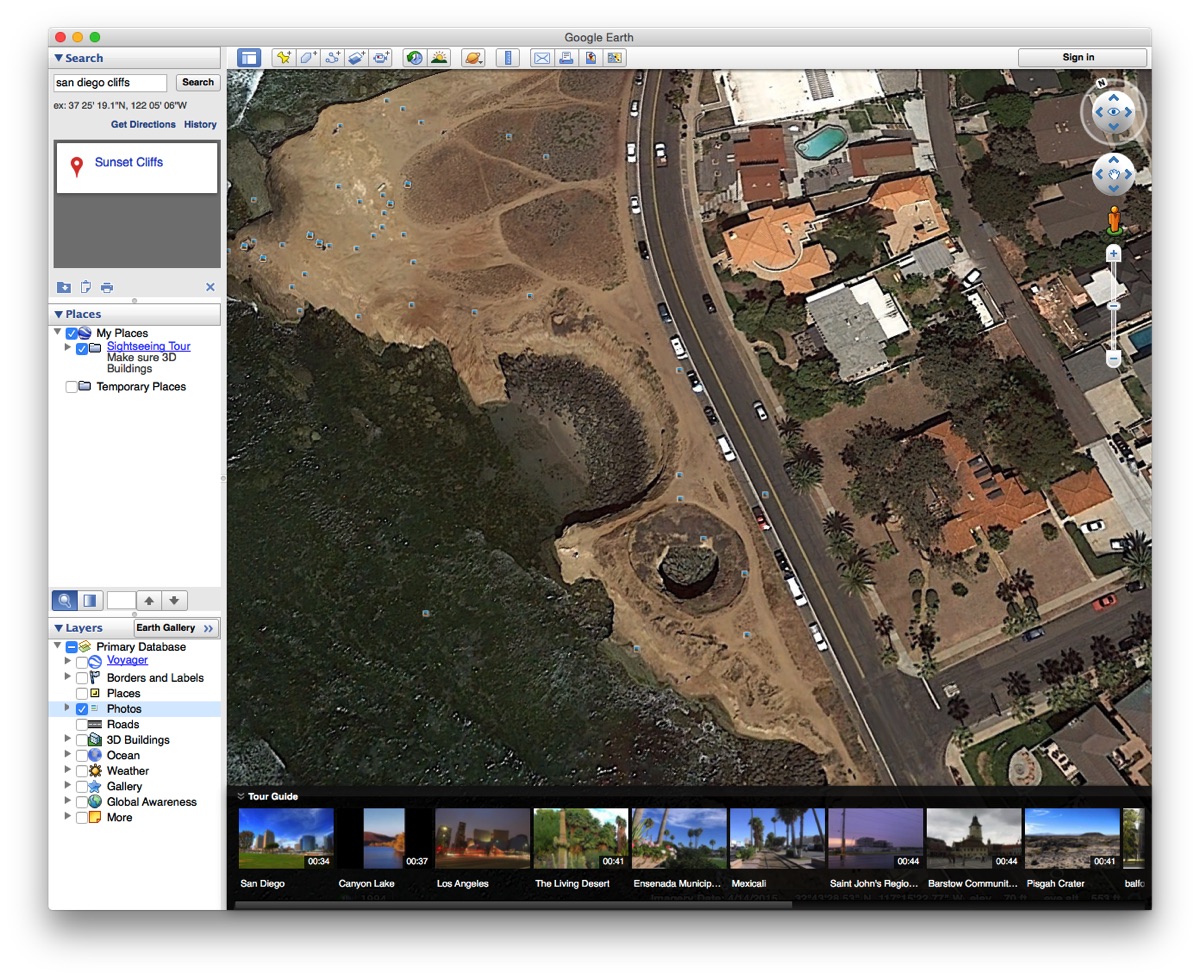 First I panned and tilted around the location for a bit to get myself familiar with the area. I then entered into "Street View" mode so I could figure out if there was any place to park my car.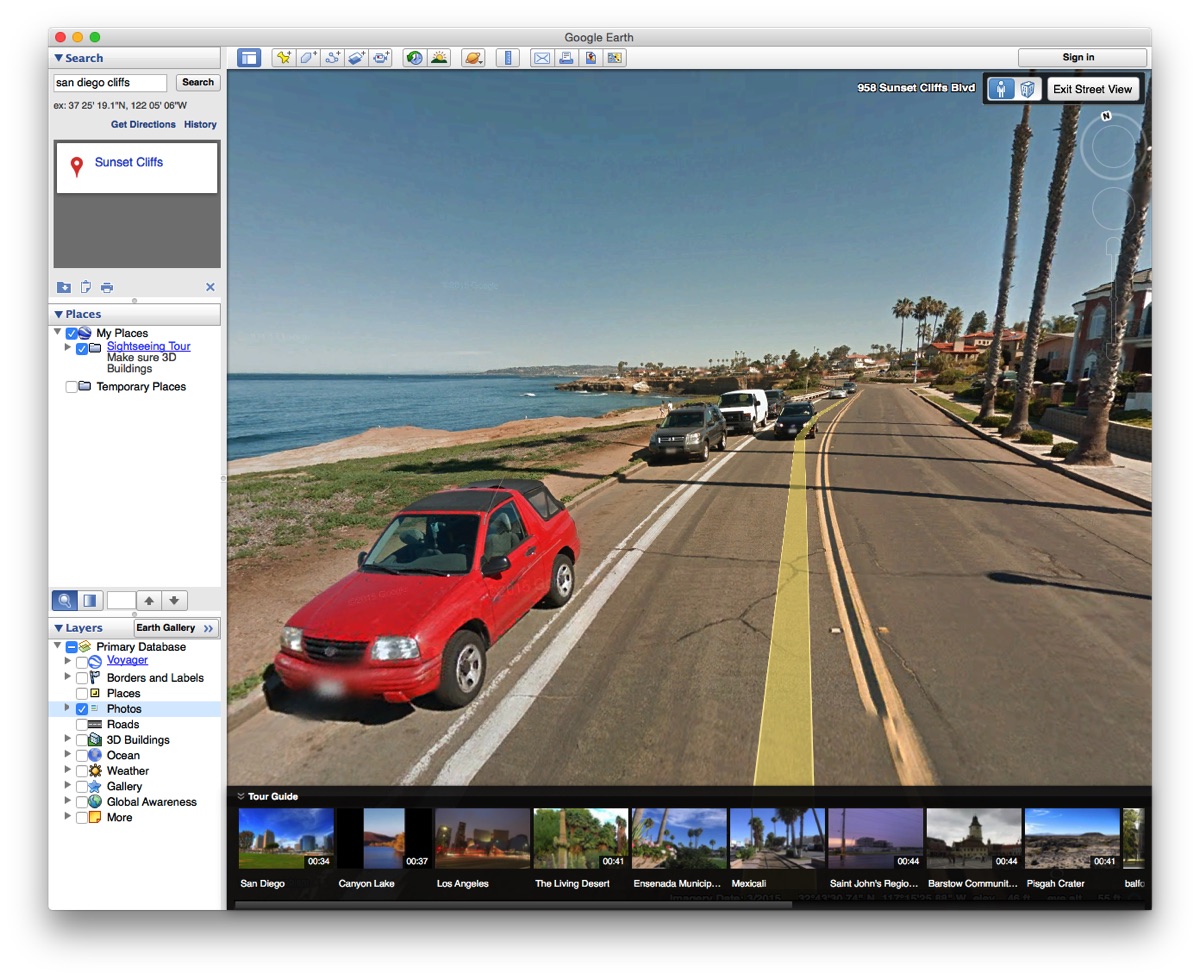 Once I learned all that I could about the location, I headed out and explored my newfound discovery. My shoot at this location ended up being really smooth and fairly quick because I already figured out the angles I wanted to capture thanks to my pre-production planning.

Another awesome thing about Google Earth is that it has a photo mode that will populate any area with photographs that have been geo-tagged and then uploaded on the web (this service is powered by Panoramio which is another super helpful resource).
While Google Street view provides views taken only from areas that a car can travel, viewing in photo mode is super helpful because it can give you a really good on the ground view of what a location looks like.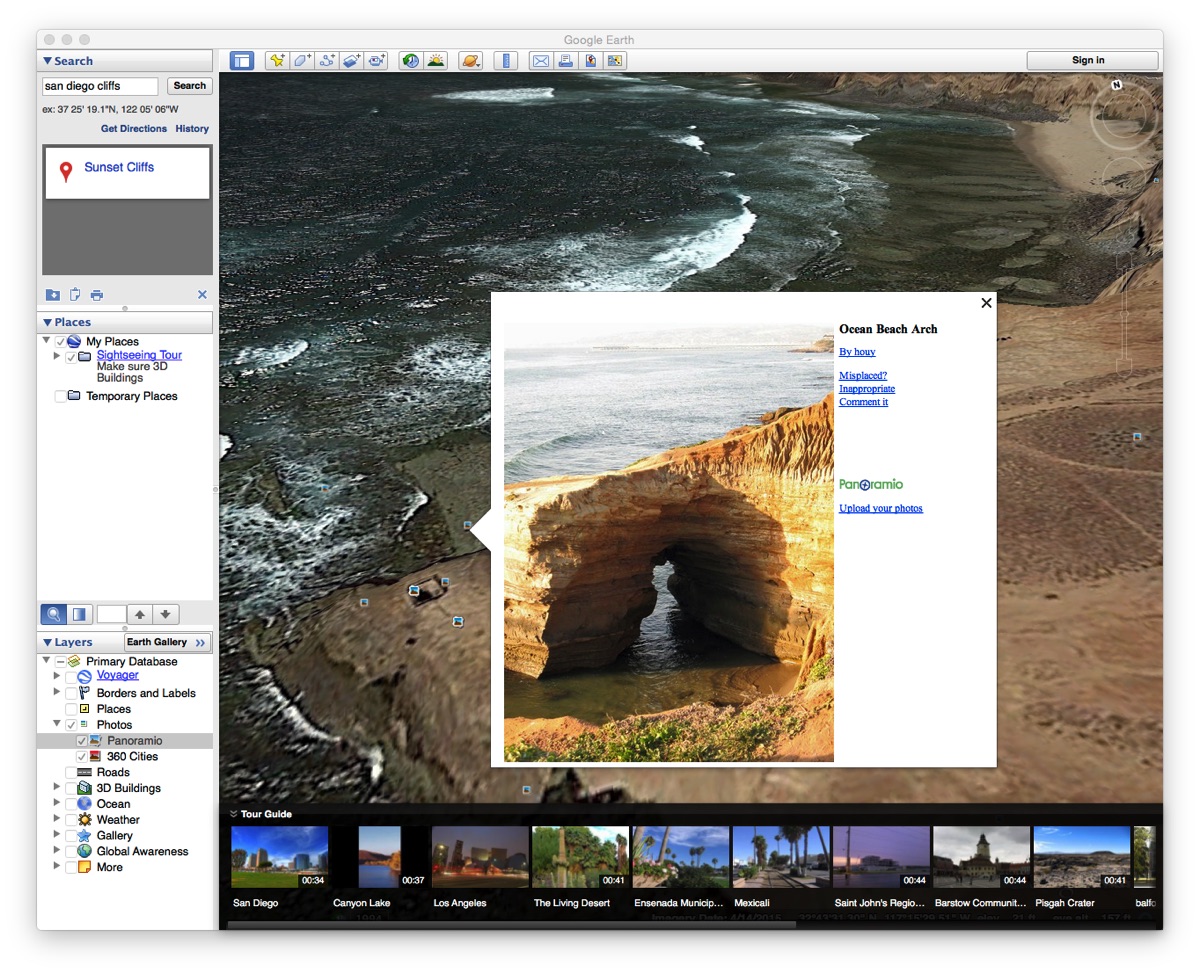 Lastly, whenever I am visiting a new city or town, I always scan over the area using Google Earth to see if there are any interesting patterns, lines, designs or landmarks that are close by.
Thanks to Google Earth I've found a lot of really cool places that I would have never known about. That is how I found this awesome roundabout:
So that's my favorite pre-production tip. Using Google Earth to scout interesting locations to better inform you and help you plan your aerial shoots.
If you don't have the ability to download Google Earth on your Mac or PC or you don't have a smart phone that is compatible with the Google Earth app then just use Google Maps and switch the viewing mode to satellite view, which will give you basically the same features minus some of the Google Earth bells and whistles.
If this tip was helpful to you could you let me know? Also if you have any pre-production tips that you would like to share with the #fromwhereidrone community then please leave a comment below!