Drone Buyers Guide: The Best Drones for Any Budget
I am asked on a weekly basis which drone I have and which drone I recommend for taking aerial photos & videos. As a teacher, I love to help and share the things I myself have learned so I decided to put together a simple buyer's guide that I hope is helpful to you, no matter the budget!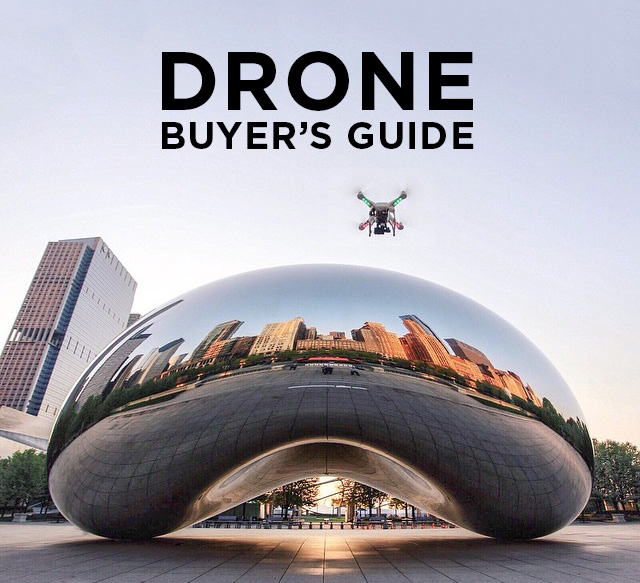 Photo by Tyson Wheatley
This drone buyers guide is aimed at the user who wants a ready to fly drone
First, a little background: I have been flying radio-controlled airplanes and helicopters for over 10 years. I originally started with electric helicopters and airplanes. Then I started flying one of the first consumer drones with a camera that could only be controlled with an iPad back in 2012. Today, I own numerous toy drones and serious drones. The advice you'll read below is based on me conducting hours and hours of research and flying/testing. While changes happen pretty quickly in this new emerging field I try my best to stay on top of the newest and best drones that come out on the market so you can hopefully get a better idea of what might be best for you.
Therefore, this drone buyers guide is aimed at the user who wants a drone without having to do any of the DIY stuff like programming and soldering circuits. Below is my guide for the user that is looking for a simple, turnkey solution no matter the budget. As always, let me know if you have any questions or want any clarification on any of these recommendations and I will try my best to help you out!
TOYS, JUST FOR FUN

Estes Syncro X Nano Quadcopter (The World's Smallest Drone) – $25
---
If you're looking for just a fun little toy quadcopter to fly around indoors, then definitely check out the world's smallest quadcopter, the Estes Syncro X Nano R/C Quadcopter. It's currently one of the highest rated drones on Amazon, it charges via USB and it can fly for about 8-10 minutes. It can be a bit wild to control, especially if you are not used to flying and the props will usually fall off when you hit something hard like a wall. However, getting it to fly smoothly has become a fun challenge for my friends and me. (Amazon link)
Syma S107 R/C Helicopter with Gyro – $19
---
While not technically a drone, the Syma S107 helicopter is a super fun little indoor flying toy that my 5 year old daughter and I love to fly. This heli is easy to fly, charges via USB and flight time is about 7-8 minutes. The battery seems to go-out after 4-5 months if you don't properly maintain it but that hasn't kept me from buying them (we own 4 of these now!). (Amazon link)
Hot tip: Tape a little coin underneath the nose, this will result in the heli tilting forward allowing you to have better control and fly in a forward motion faster.
LEARNING TO FLY

Syma X1 R/C Quadcopter  – $32
---
Although this step is not required, I think it is still worth mentioning since this is how I started with flying quadcopters (a helicopter that is lifted and propelled by four rotors). Before I spent thousands of dollars on an expensive drone, I first got the Syma X1 R/C Quadcopter. The X1 is what made me first fall in love with quadcopters and after my first flight, I knew I would be upgrading.
What I liked most about this small quadcopter was that it got me used to flying with the standard left joystick (throttle lever) and the right joystick (the direction lever). A big plus for this model is that it is pretty inexpensive and durable. I have crashed it many times and it still flies. But most importantly, it provides you with a great product to begin practicing (and crashing!) with before upgrading to the "big leagues". (Amazon link)
SERIOUS DRONES
DJI Phantom 2 Quadcopter – $699 (not including a GoPro Camera)
---
The DJI Phantom 2 Quadcopter is the first "real" drone I bought. I spent weeks researching and comparing it with other drones and finally I decided that it was the perfect drone for me. For starters, it is one of the easiest drones to fly (setup takes about 20-30 minutes) and it allowed me to seamlessly connect my GoPro Hero 3 and then later my GoPro Hero 4.
I ended up investing quite a bit of money into this setup because I bought a third-party Kumba Cam FPV Advanced Monitor Kit (FPV just means "First Person View"). I went with this specific kit because it is so easy to setup up and doesn't require soldering. The advanced kit also extended my video signal range from 500 feet to 1,300 feet. Without an FPV kit I wouldn't be able to see what I was taking pictures of and would be essentially flying blind.
A year ago, this was probably the best consumer-grade drone you could buy, but it came with some down sides. For starters, you could only record video at 1080p and could only take pictures every 5 seconds! So, timing photos of moving subjects was extremely difficult and super frustrating! Because of these limitations, I have since upgraded to the newer model, which I will talk about next but I still recommend this for users that want a cheaper option since prices have been seriously slashed on these in the last few months. (Amazon Link)
Side note: At the time the Phantom 2 Vision+ was a much more simple setup because it features a built in camera and just connects to your phone (no external monitor kit needed) but I ultimately decided against that version because the camera was not as good as the GoPro camera.
The DJI Phantom 3 "Standard" – $599
---
If you want a more serious but less expensive drone and don't need all the pro features then definitely check out the DJI Phantom 3 "Standard". It is very similar to the Phantom 3 Advanced/Professional minus some features.
What you get: a camera that is capable of shooting 2.7K/30fps and 12MP jpeg or RAW stills, 25 minutes of flight time, fly up to a 1/2 mile away and it comes in multiple colors.
The missing Phantom 3 Pro features include: Lightbridge communications system which allows you to fly up to 1.2-miles away, the GLONASS satellite system and the extra visual and ultrasonic sensors which allows for better navigation/positioning and the ability to hold the position of the drone indoors/outdoors when it is out of satellite range. (Amazon link)
The DJI Phantom 3 "Professional" – $1259 (My favorite!)
---
The brand new DJI Phantom 3 Professional is my absolute FAVORITE drone! The update from the Phantom 2 to the Phantom 3 is quite impressive. It's still small enough to carry in a backpack. The camera sports a built in 4K, 12 mega-pixel camera. Battery life has been extended to 22 minutes and the new app allows you to connect a smartphone or iPad which acts as a live HD monitor (FPV) for a distance of over a mile away. So you don't need to buy any third party accessories whatsoever!
The Phantom 3 is known as a RTF (ready to fly) drone because it basically comes pre-assembled and it is so easy to setup and fly that you can literally pull it out of the box, screw on the props and start flying within 5 minutes. However, I highly recommend you read the manual and watch the DJI starter videos on YouTube first!
What gets me most excited about the new Phantom is that DJI packed a lot into this drone and the new app for almost half of what I paid for my first, more inferior, Phantom setup. You can now:
adjust the camera's exposure, shutter and ISO
take a photo (or photos in burst mode) whenever you want, no more 5 second delay!
control photo and video settings remotely such as resolution, frame rates and file types
immediately review photos and videos with your drone still in the air
All of these reasons made this upgrade a no-brainier for me (my full review of the Phantom 3 is coming soon, sign up for my newsletter to get notified when it comes out!). (Amazon link)
Hot tip: I highly recommend that you get at least 1 extra Phantom 3 battery since 22 minutes goes really fast! And unfortantely Phantom 2 batteries will not work with the Phantom 3.
The DJI Phantom 3 "Advanced" – $999
---
If you want to save $260 and don't really care about shooting video in 4K, then consider the Phantom 3 "Advanced" which is the little brother for $999. It shoots video at a lower resolution, 1080p, but it still takes photos at 12 megapixels! Other than that, it is essentially the same drone.
If you're serious about shooting photos and videos and have a little more wiggle room in your budget then in my opinion I think you should spend the extra money on the Professional because of the ability to better future-proof your investment since it shoots 4K video and as an added bonus you can pull nice still images from your 4K videos. (Amazon link)
---
3DRobotics Solo – $1800 (after adding a GoPro camera & Gimbal)
While I'm a big DJI fan, it is only fair that I mention it's main competitor. If DJI is the Apple of the drone world, then 3DRobotics (now known as 3DR) is Android. I personally haven't flown the 3DR Solo, but some of my friends like it and I personally think it has some pretty cool features. If you already own a GoPro or want to really customize your drone settings you may want to look into 3DRobotics's lineup. (Amazon link)
DJI Inspire 1 – $2,850
By far the coolest looking drone around, The DJI Inspire 1 is an incredible drone. It seriously looks like a mini, alien space ship that has come to us from the future. As a result, you'll probably draw a lot of attention and questions when you go out with it. While the Inspire 1 is bigger and faster than the Phantom 3 Professional, it does feature essentially the same camera as the Phantom 3 except it can be rotated 360º.
The main advantage to getting the Inspire 1 is the dual pilot operation mode. Basically, you can have one person focus on flying the drone while another person operates the camera with a separate controller and monitor. If you're serious about aerial imaging and want to do it professionally or with a buddy, this is hands down the best drone you can buy under $3k! (Amazon link)
---
Please note that some of the links on this page are Amazon affiliate links which means that any purchases made as a result of clicking a link will help support this ad-free website!
Well, there you have it, 8 drones at different price points, all with varying levels of features. If you're new to the drone world, I understand how throwing down several hundred dollars on this technology can be worrisome. So feel free to shoot me a message and I will try my best to help you out!
If you would like to read more about the gear I like to use then check out my gear page here.