Posted on October 20, 2016
7 Ways to Grow Your Drone Aerial Photography Business Online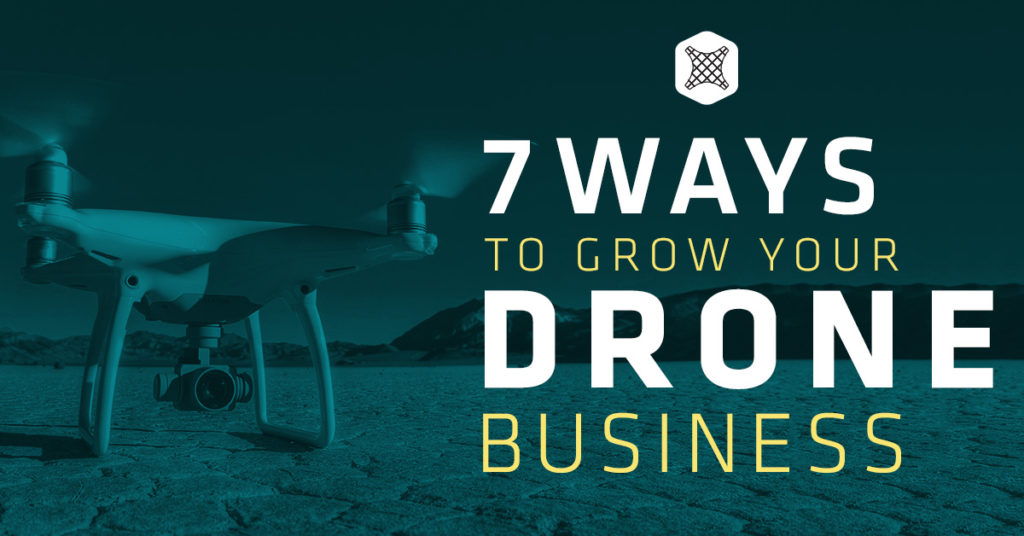 With the FAA's new Part 107 officially in full swing, we can expect an influx of new certified drone pilots to enter the industry (check out this helpful Part 107 guide for more info on this new ruling).
This means it's going to get tougher and tougher to stand out as a drone pilot that is running your own aerial business. You will need the necessary equipment and skills, but also a brandable business, a clean website, attentive customer service, and new methods of attracting clients.
This is true whether you work locally, nationally, or internationally.
One of the avenues that I see very few pilots fully utilizing is the Internet. Many pilots are sticking to traditional advertising methods and in-person marketing.
While these methods are effective, the Internet can provide a scale that no other channel can match. And odds are, your competitors aren't taking advantage of it.
In this article, I'm going to show you seven ways to grow your drone business online.
You will learn how to contact prospects effectively, the advertising method that I see all local businesses under-utilizing (not just drone pilots), how to actively use social media to your advantage, and more.
Let's get started:
1) Cold Emailing
In the digital world, email is an ancient relic.
Yet it has remained one of the best ways to get in touch with someone and form a relationship with them.
If you want to get in touch with a lot of potential clients, you should absolutely be utilizing email.
First, put together a spreadsheet to gather prospects and keep track of responses/follow ups. I like to use Google Sheets so I have my work on any device:


Then head over to Google and search for potential clients. Here are a few:
Realtors
Construction companies
Apartment complexes
Golf courses
Hotels/resorts
Search for the area(s) you work in and the type of client you want to have. Ex. "san francisco realtor."
Then visit each potential client's website and find their email address or contact page. Then input their info into your spreadsheet and send them an email like this:
Hi NAME,
My name is NAME and I run a drone aerial photography business here in San Francisco.
I've worked with many realtors helping them create marketing material to sell houses, condos, and apartments.
If you're in need of quality aerial photos or videos, we could potentially work well together.
Here is my demo reel if you would like to see what I can do: URL
And my phone number: NUMBER
Feel free to reply to this email or give me a call if you would like to discuss this further.
Have a good one,
YOUR NAME
Keep it simple, to the point, and don't try to sell yourself too hard. Just introduce yourself and your services.
Email outreach is a numbers game. The more people you contact, the more successful you will be.
And if people don't respond to you after a couple days, send them a follow up email. It might have gotten buried in their other work.
2) Local Facebook ads
I still don't understand why I don't see more local businesses popping up in my Facebook feed.
Facebook is the most powerful advertising tool ever invented. Nowhere else can you get so detailed in how you target an audience and gather actionable data from each campaign to make your next ones better.
You can literally target people who work as a specific occupation in your city, your state, your country, or multiple. Or people who like ice cream, asian food, video games, a certain magazine, a sport, a hobby — practically anything.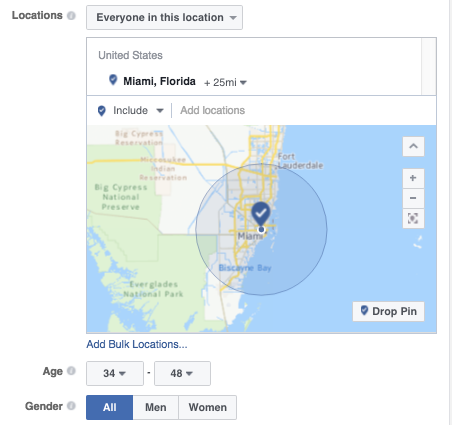 And the ad runs in the background while you handle things in the rest of your business.
Once you know which clients you want to attract, simply build audiences in Facebook's advertising platform that fit their demographic. Then create ads that showcase your business and let 'em rip.
Breaking Facebook ads down fully is beyond the scope of this article, but here are a few resources to get you started:
3) Social Quant
Social Quant is a tool that helps you build a presence on Twitter.
Based on the keywords you input, it will automatically scan Twitter looking for conversations containing those keywords. Then it will analyze those Twitter profiles and determine whether they are worth following.
Social Quant will automatically follow those people, and a percentage of them will follow you back. If people don't follow you back in a certain amount of time, Social Quant will unfollow them for you, keeping your follower-to-following ratio even.

This tool is especially helpful for RC drone pilots who work nationally.
Set up your Twitter profile so that it clearly states what you do, who you work with, and where you work.
Here's an example:
"Drone aerial photographer specializing in real estate and land surveying. I operate across the United States."
Then link to your website.
This ensures that the people who follow you back are as targeted as possible, and it will give them a chance to click over to your website and get to know you better.
When Social Quant asks you to input keywords for them to scan for, include the area in which you work, the work you do, and the types of clients you want to attract:
united states aerial photographer
real estate agent
construction manager
drone photography
drone videography
4) Twitter Search
To get more active on Twitter, trying using Twitter's search bar:

It's remarkable just how many conversations you can find and engage in on Twitter.
Perform a search for your ideal client. Then click the Accounts tab: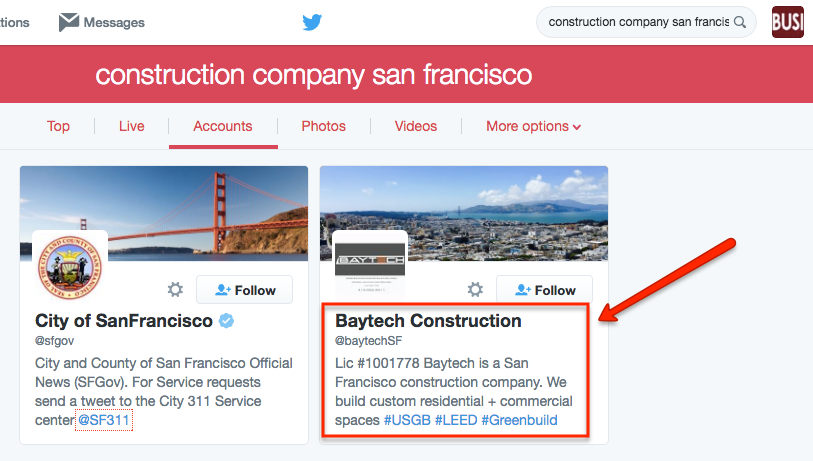 This will pull up accounts that are related to your search query.
Check out each account's profile. Then scan through their tweets and look for an opportunity to start a conversation with them. Make it lighthearted and playful.
If you can't find any tweets worth engaging with, click the "Tweet to" button and send them a tweet introducing yourself and complimenting their business: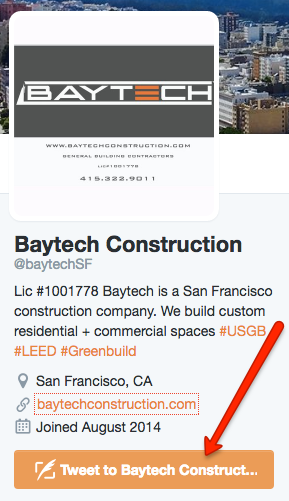 As you start building a rapport, you will want to find their contact information on their website and send them an email to deepen the relationship and introduce your business.
5) LinkedIn Connections and Groups
LinkedIn is one of the best places on the Internet to network and attract new business, especially if you run a B2B (business to business) business, like most pro drone pilots do.
First, hop on LinkedIn and make sure your profile states what you do, who you do it for, and links to your website and contact information.
Then use their search tool to find people who would make good clients for you. Connect with them and send them messages just like you would with a cold email. Introduce your business and start building a relationship with them.
LinkedIn is a natural place to meet other professionals, so don't be shy about reaching out to people directly.
6) Craigslist
Craigslist is the ultimate resource for online classified ads.
If you want to attract new clients passively with little effort, try putting up a craigslist ad promoting your services.
Like this guy: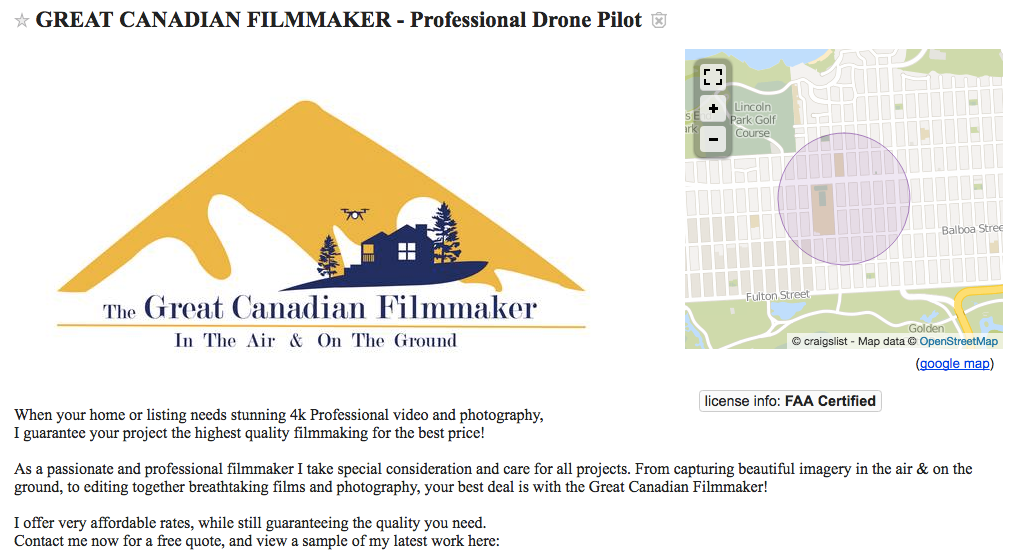 It only takes a couple minutes and can net you a new client (or multiple).
7) Get Ranked in Google
Many professional drone pilots put up their websites and almost immediately found themselves getting free, passive traffic and clients from Google.
This is because they were one of the first on the scene, so they had zero competition in the search results.
As time goes on, this is going to change — drastically.
I'm predicting that search results for local drone aerial videographers and photographers will become as competitive as local real estate agents over the coming months and years. (Check out 5 more predictions for the future of the drone industry.)
Those pilots relying on search engine traffic for a large portion their clients should prepare for this ASAP.
To rank in search results, you need combination of on-page and off-page SEO. This means you need to optimize your website correctly for the keywords you want to rank for, and you need to get your business cited in local online listings and build backlinks to give your website more authority.
Here are a few resources to get you started:
As a professional drone pilot, I suggest placing the area in which you work in your business's name. Such as "San Francisco Drone Photography."
If it's too late to change your name, include it in your site's tagline and on every page of your website, like so: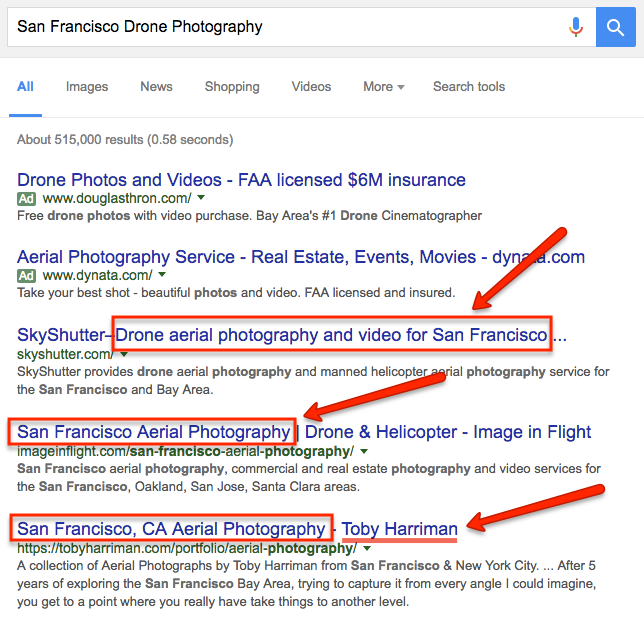 This is because most of your potential clients are going to be searching for drone aerial photography/videography related keywords in their local area.
If you can get or maintain your ranking in Google, search engine traffic is one of the best sources of clients and customers any business can have.
It's extremely valuable, especially if you can get it for free. (Some businesses pay Google hundreds of thousands of dollars just to have their website show up in search results.)
Over to You
Even if you have an established client base right now and your drone business is doing well, I suggest that you don't get too comfortable.
Most likely, the amount of competition around you will increase. And if you start preparing now, you will be able to handle it better when it arrives.
If you've graduated from your mini drone are just starting out in the professional realm, use this time as an opportunity to get a foothold in the market and make your stance. There couldn't be a better time to get into the industry.
About the Author
Michael Karp runs Drone Business Marketer, a blog that teaches professional pilots how to grow their businesses.
(Header Photo Credit: Peter Thoeny)