The 10 Best Places to Show Off Your Drone Photos & Videos
This is a special post done in collaboration with me and Malek Murison who is freelance writer based in London.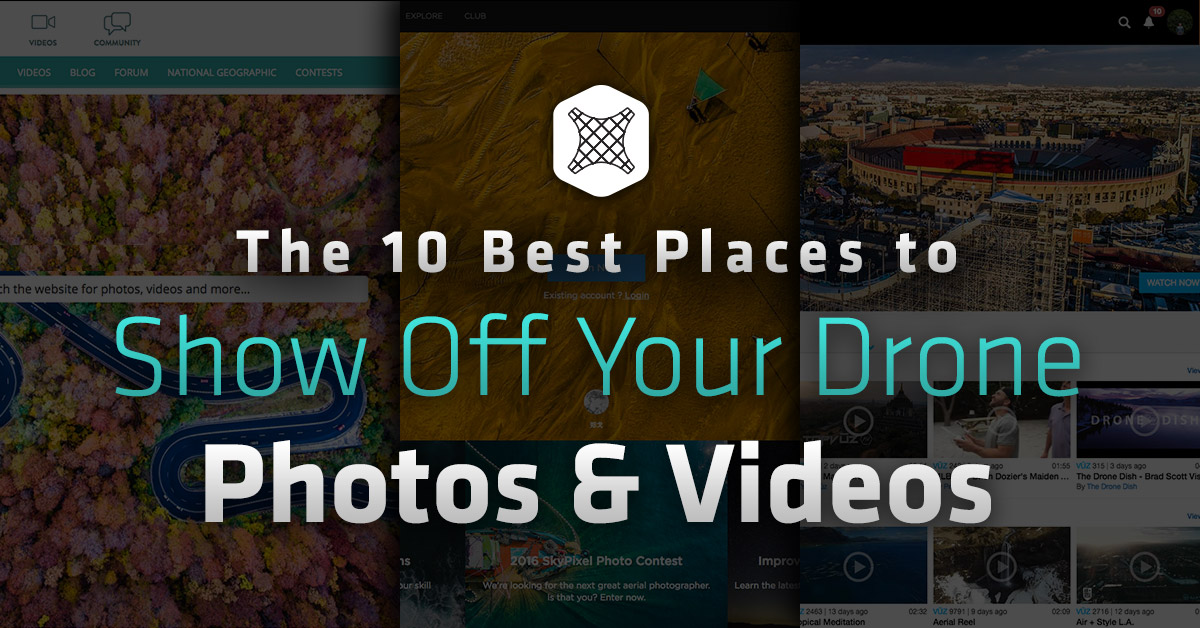 Below is a list of various websites & platforms for you to show off your best drone photos and drone videos.
For plenty of professional and amateur drone pilots it's all about results. Sure, flying a drone is fun – but it's a means to an end, right?
It's safe to say that the 'end' is creating interesting aerial imagery, whether that be drone photos or drone videos.
The spectacular drone photos and drone videos you can get from an eye in the sky are the lasting mementos you take home after every flight.
One of the best things about our connected world is that we can now quickly share the things we are proud of with our friends, colleagues and potential clients.
So whether you're looking to build a name for yourself or win new business, it goes without saying that you need to get your drone imagery out there in order to make an impression and get people to know your work even exists.
But where are the best places to show off your drone photos and videos?
What platforms should you choose to show off your piloting skills to potential clients or get your work recognized by leaders in the field?
Dronestagram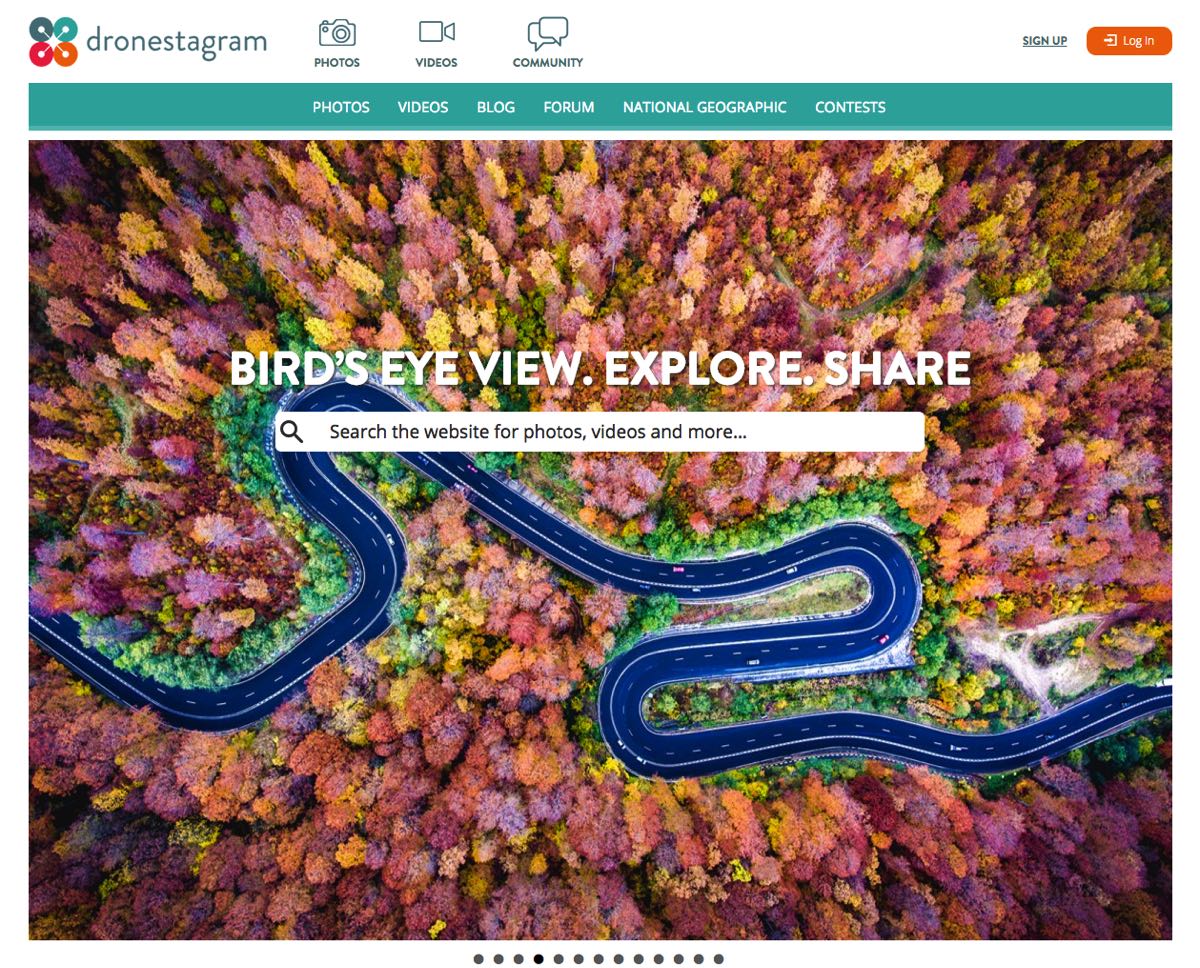 Dronestagram is a unique social network in that every single post on Dronestagram is derived from aerial drone photography.
It's one of the most popular platforms for drone pilots to share their work online, network and find aerial drone inspiration.
The platform has also received plenty of media attention with its annual photography competitions, where National Geographic judges are asked to select the best shots across a number of categories.
Keep an eye out for the contests they hold throughout the year and you may be able to win amazing aerial related prizes.
Your Personal Website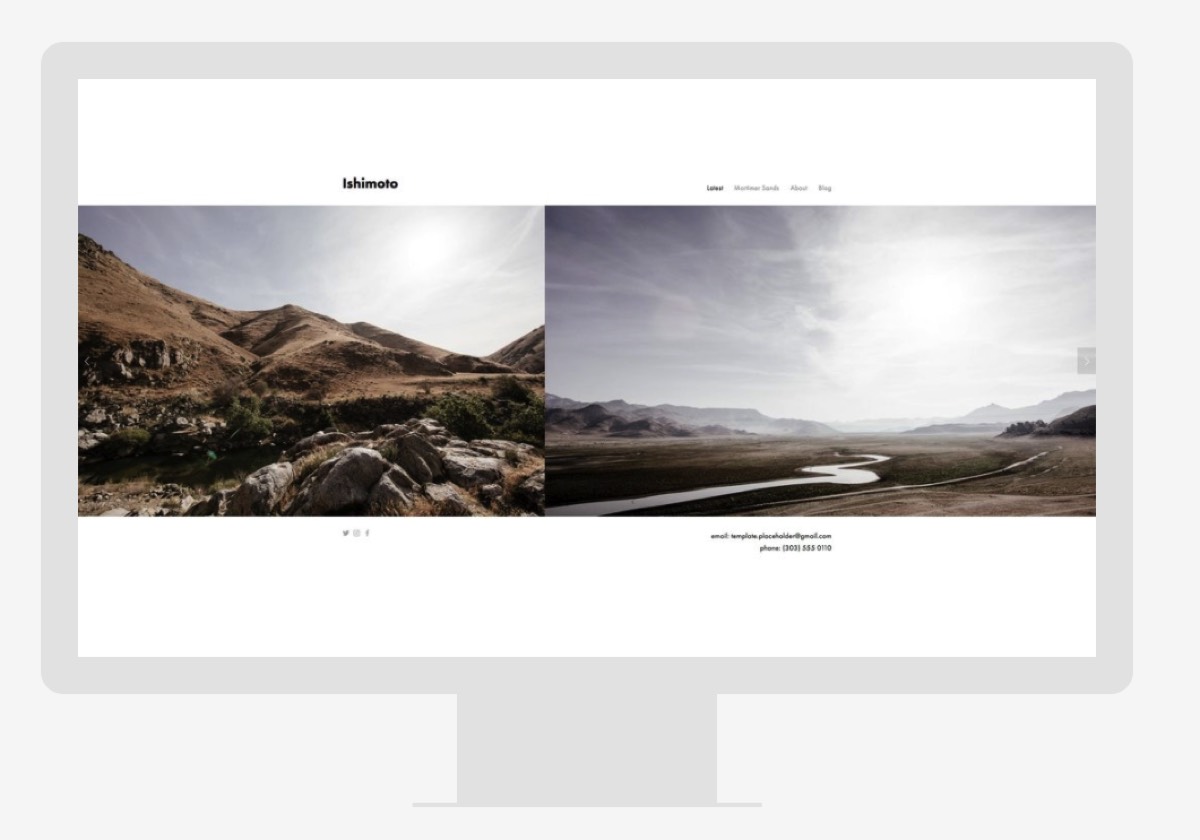 If you want to be taken seriously as a professional aerial photographer, it's a good idea to have a website which will serve as a central home for all your drone work.
A personal site is your portfolio, social media hub and business card all rolled into one.
It's a platform that acts as your reference point in the digital world, and establishes you as a credible option for people searching for aerial photography services.
Putting together a website might sound like a daunting task, but it doesn't have to be.
Website building has progressed in recent years to the point where zero technical knowledge is now required.
Platforms such as Squarespace, Format, Weebly and Wix allow you to put together a crisp and professional looking website in a matter of minutes.
Facebook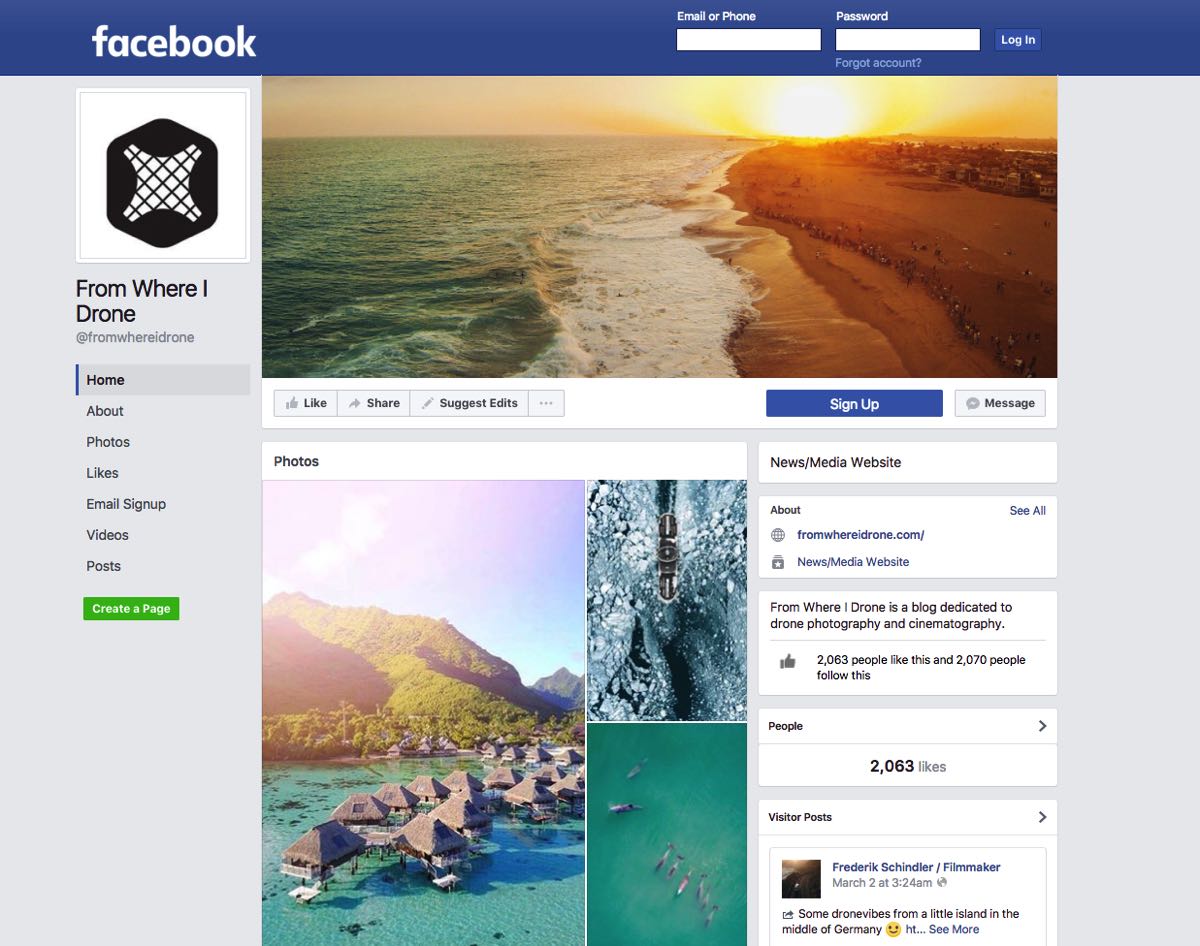 Putting time and effort into Facebook might feel like throwing your best work into a void of memes, clickbait and angry political rants, but it's actually a great way to raise awareness of your piloting skills and aerial photography prowess.
This is because most people on the web today are still spending a lot of time on Facebook and if you work stands out it is easy for it to rack up views/likes/and shares.
Your first step should be to create a dedicated page for your work.
Ideally, one that's linked to both your personal website and the other social media accounts you have.
Once that's done, the key to reaching a wider audience is quality content and consistency.
If your images and videos are dramatic and impressive enough to get people talking, you're onto something.
It's not necessarily the clarity of footage that sets you apart from the rest, but your ability to tell a story in a captivating way.
Check out this post for tips on how to create better drone videos
A great pilot/storyteller could produce something worth sharing using just a kids' drone and your potential reach on Facebook goes one step further.
Several manufacturers, including DJI, have announced compatibility with Facebook that allows you to live-stream your flights right onto the platform.
What better way to put on a show?
SkyPixel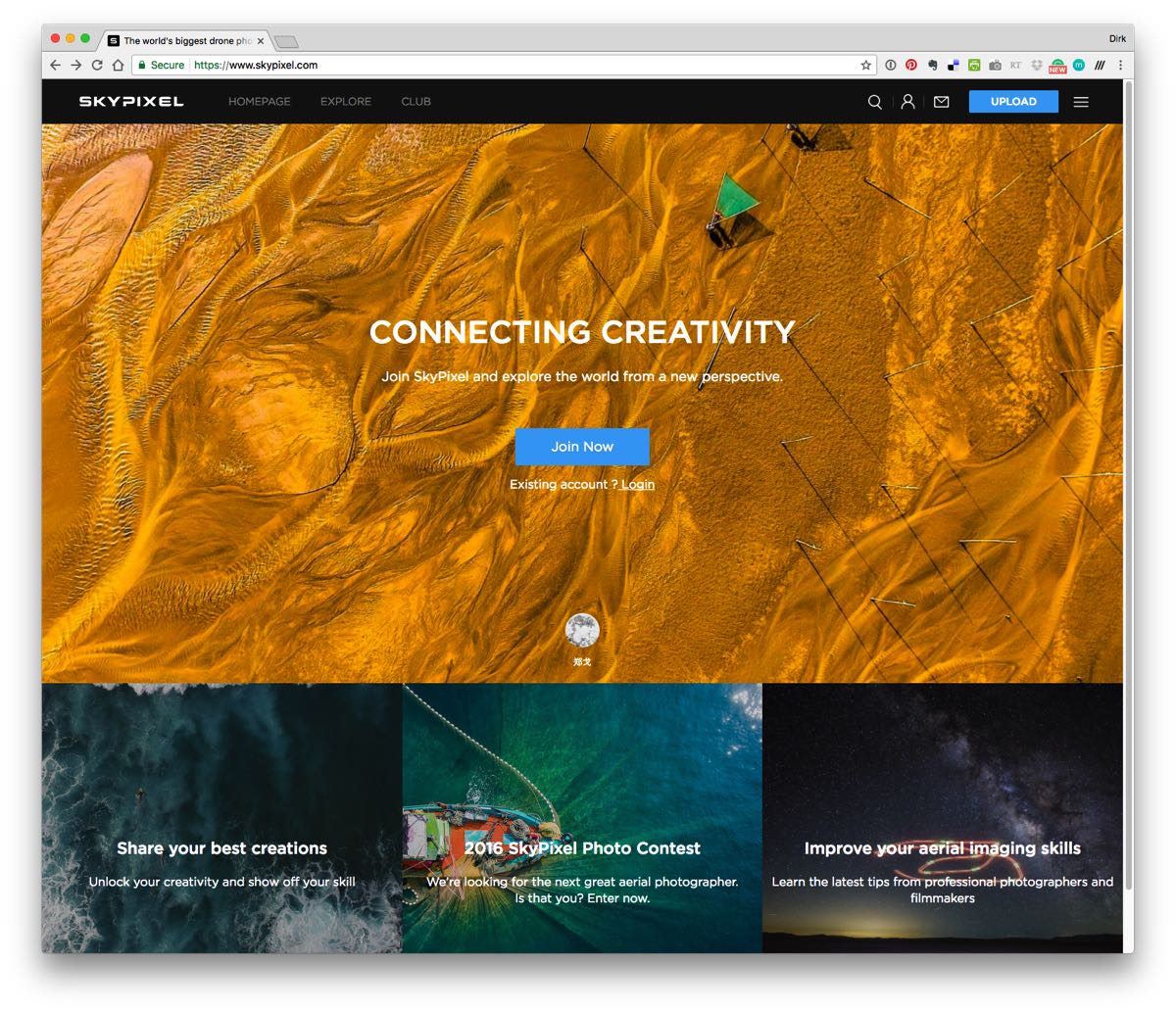 SkyPixel is a drone community platform launched by DJI back in 2014.
To this day it remains one of the world's most popular places to exhibit aerial photography.
Ever since it was set up, SkyPixel has been running epic annual photo competitions by offering some spectacular prizes for the winners.
The best images tend to receive lots of coverage from media organizations that don't normally focus on the drone industry.
So set up a free account and get involved in one of Skypixel's photo competitions?
Instagram and Twitter
The social media world is fast becoming a place of instantaneous interactions where a single image can speak volumes.
Because of that, the unique perspective drone photography provides, can help you stand out and cut through the noise amongst all the other on-the-ground photos that the majority of people are sharing on platforms like Instagram and Twitter.
Both Instagram and Twitter are great places to build your brand, raise awareness of your work and grow a loyal following
They are unique platforms because people can form a connection with you since it is more of a "push" platform where you work is pushed to people's feeds opposed to people needing to search for your work.
All of this adds up to the fact that you can over time, grow a loyal and engaged audience by consistent sharing your work and engaging with others through liking, following, and posting comments and replies.
Be sure to add the hashtag #fromwhereidrone to include your drone content in the growing online From Where I Drone family.
Using that hashtag and other relevant ones related to the imagery you share is an easy way for people to find your work and to find like minded drone pilots to connect with and befriend as well as a place to be inspired by some of the best drone content out there on the web today.
AirVūz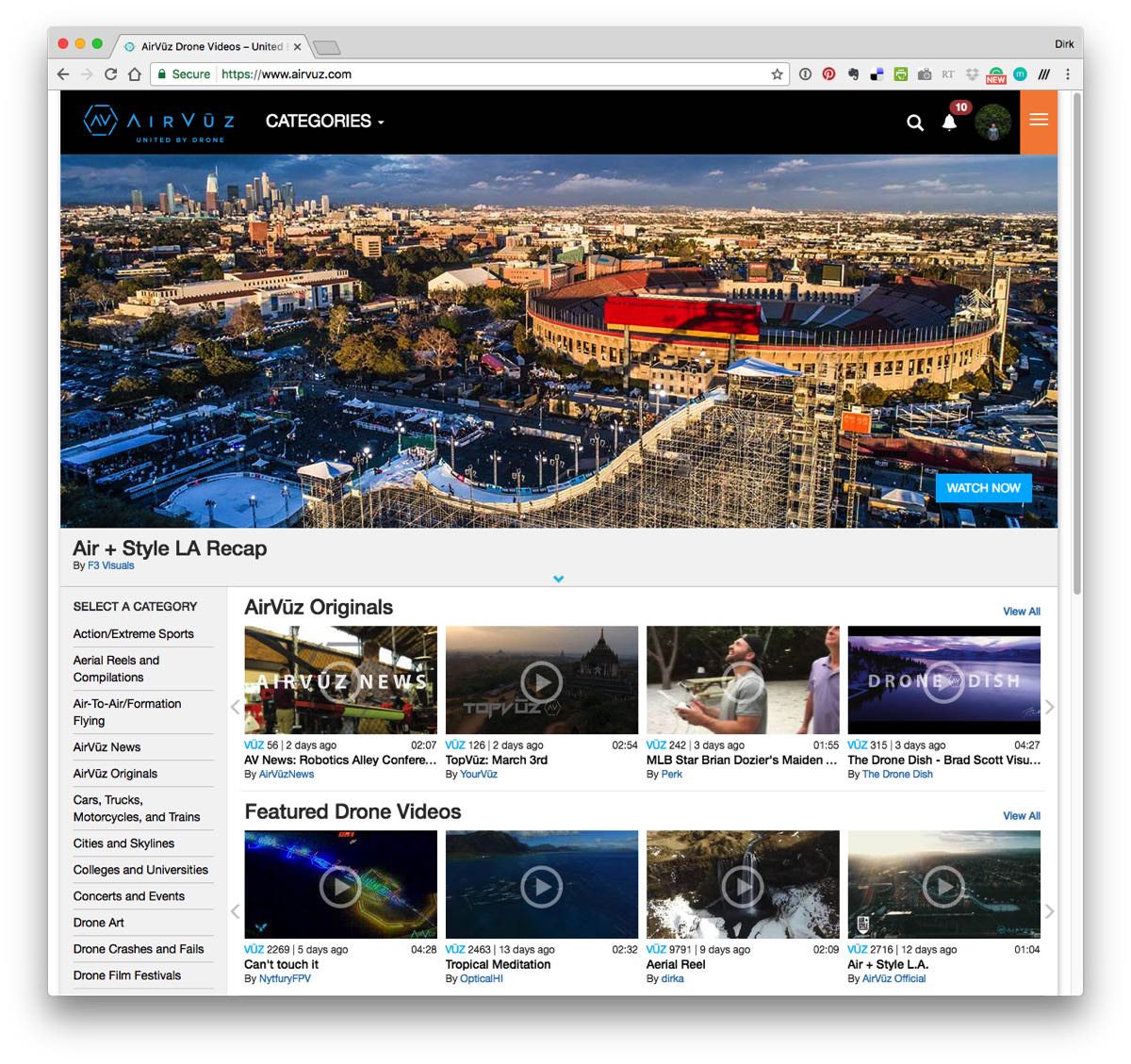 AirVūz is another platform dedicated to just drone media. It was launched at the end of 2015, and is becoming thee platform for drone specific video-sharing for the global drone community.
AirVūz has categories dedicated to every photography subject you can think of like drone reels, dronies, travel, real estate, drone art, drone racing and a bunch more.
Along with a unique blend of user-generated content, original programming and drone news shows, it's fast becoming a go-to place for aerial photographers and drone enthusiasts to see what's happening in the space.
One of my favorite features about AirVūz is that sharing your videos on their website is super easy.
You can either upload your video directly to their website or you can just copy your YouTube or Vimeo link and paste it into their uploader and then it will pull your video right into their website making it a super snappy process.
There aren't many places to find drone specific video content without having to do a lot of searching through cat videos, so to me this makes posting to AirVūz a must especially if you are already sharing your work on YouTube and Vimeo.
You can sign up for a free account here.
YouTube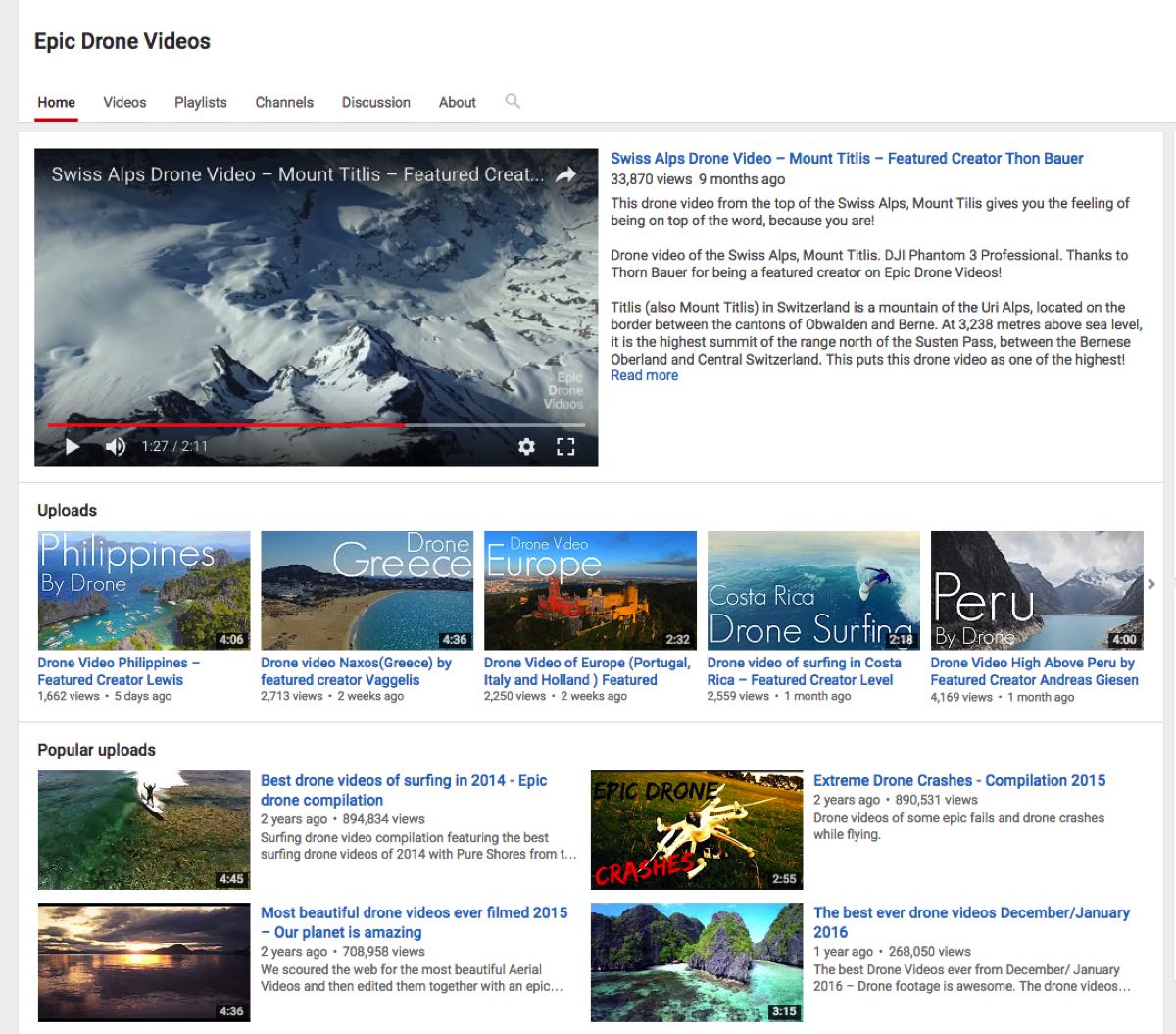 Did you know that more than 1 billion people worldwide use YouTube?
YouTube is used by almost a third of all internet users.
No other platform or social media site can compare in terms of reach when it comes to video content.
So if you're serious about sharing your aerial videos and you're not making the most of YouTube, you need to think again.
Like Facebook, YouTube also allows you to live stream your drone's video feed to their platform which makes it a unique places to share your work.
Just create a free account, upload your best footage, tag your videos using relevant tags so people can find you and post and interact consistently and overtime you'll build an audience.
On YouTube you'll find everything, from amateur footage taken with cheap drones to professional videos that have been painstakingly post-processed and shot with more expensive drones.
Drone Film Festivals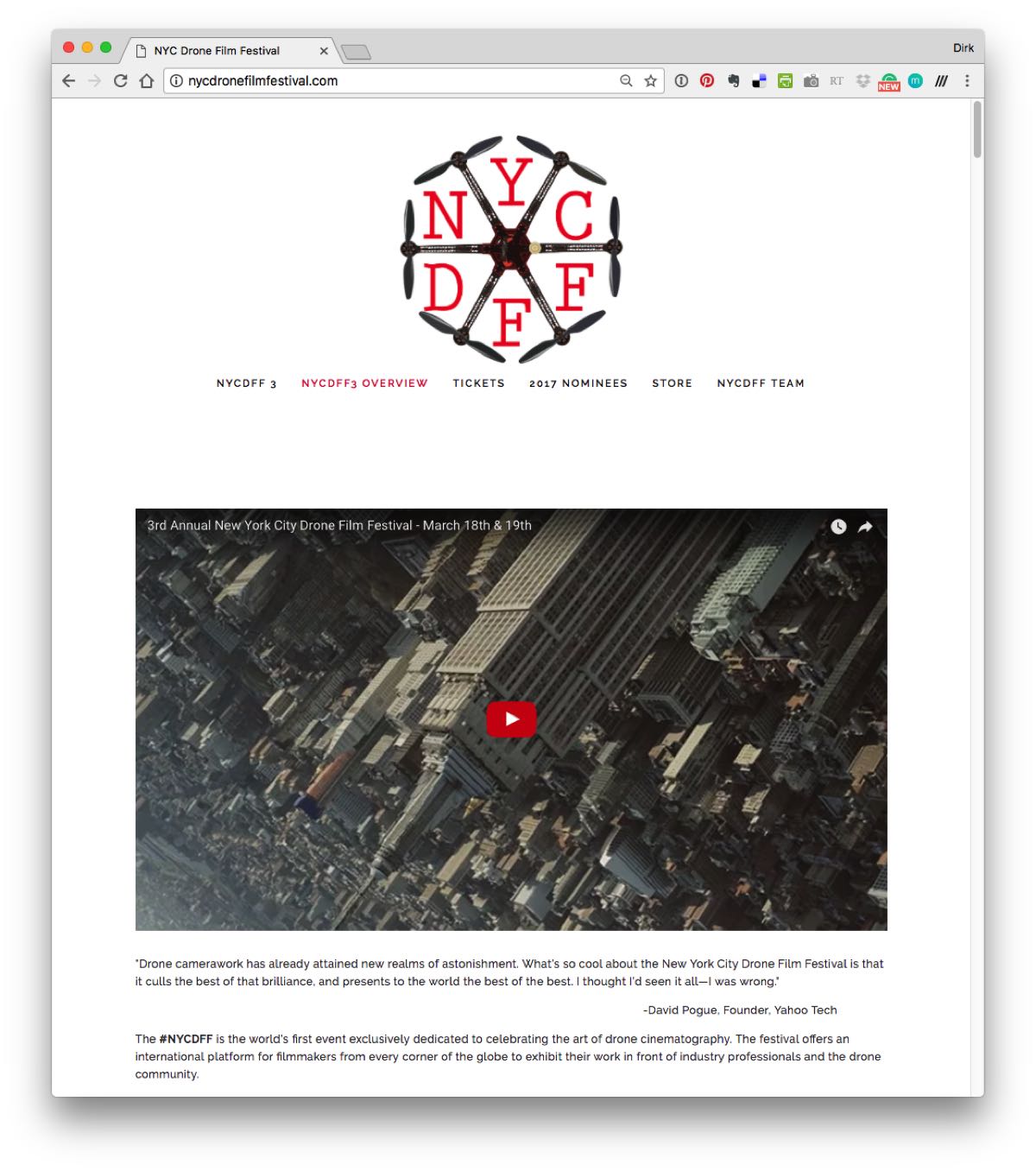 Many of the platforms on this list offer the chance to tap into new audiences that might not be familiar with your line of work or aerial photography in general.
But sometimes it's a good idea to preach to the converted.
Drone film festivals are popping up around the world and are set to become even more popular as the industry gains traction.
The New York City Drone Film Festival (which is the first drone film festival that I ever came across) showcases the best of the best drone videos which are guaranteed to be followed by people involved in the industry.
Some other great options to submit your work to, build contacts, win commissions and gain exposure for your work on the global stage includes The Flying Robot Film Festival, DroneUp IFF and the London Drone Film Festival.
Vimeo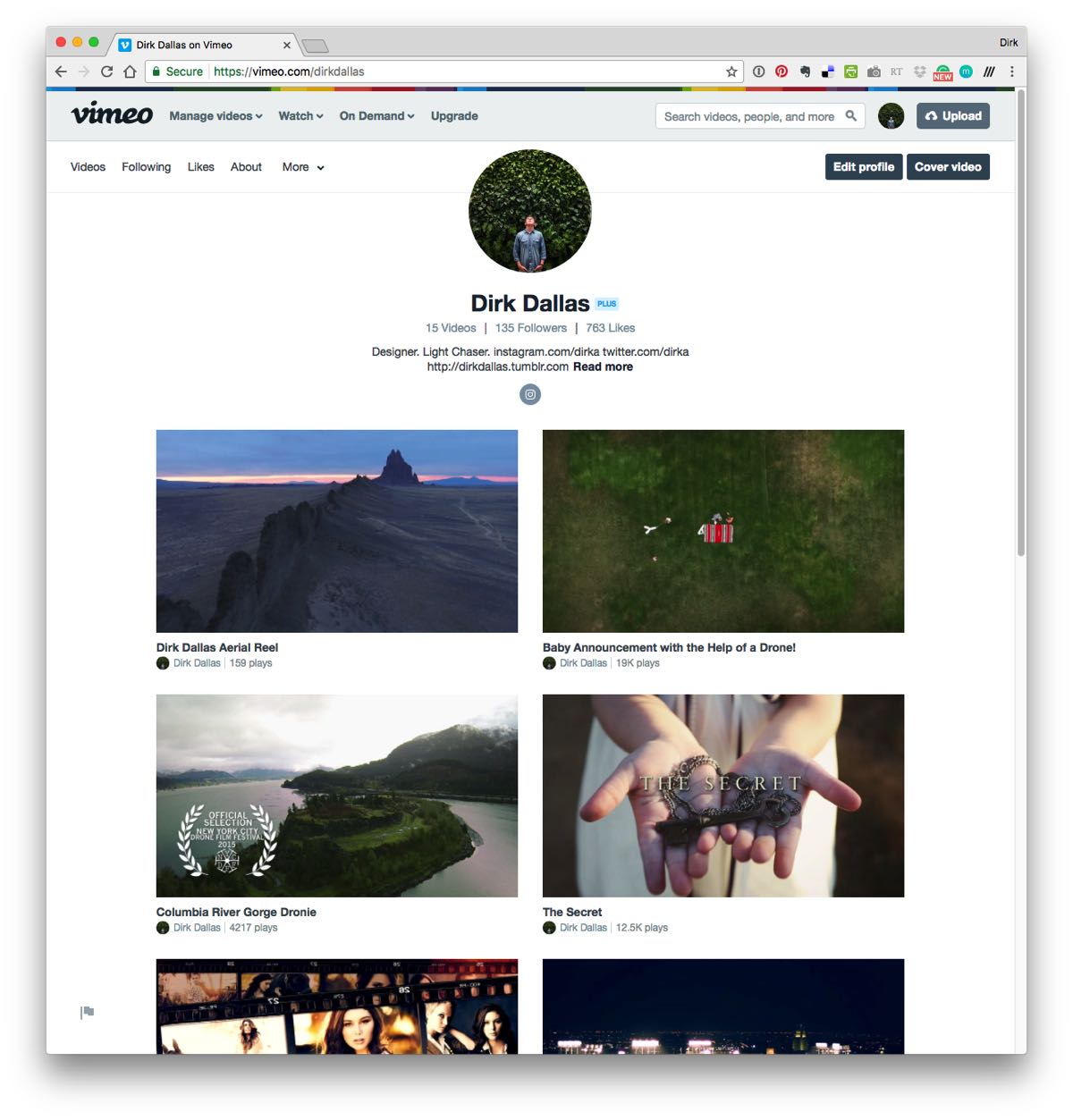 As an alternative, or even in addition to building a presence on YouTube, it's also a good idea to set up an account on Vimeo.
Vimeo is seen as more of a professional platform, so while your drone video could be listed alongside funny videos when posted on YouTube, Vimeo is recognized more as a community compromised of serious artists and filmmakers.
A key part of this professionalism is the high-quality video content on Vimeo.
There are a range of paid membership options for those looking for more advanced features but the free account is usually fine for most people who are starting out on the platform as it comes with 500MB per week of upload space.
Another benefit to uploading your drone work on this website is that you can either start or join a Vimeo group which are communities where people share and talk about certain types of subjects like drone films, dronies and a bunch others.
Skytango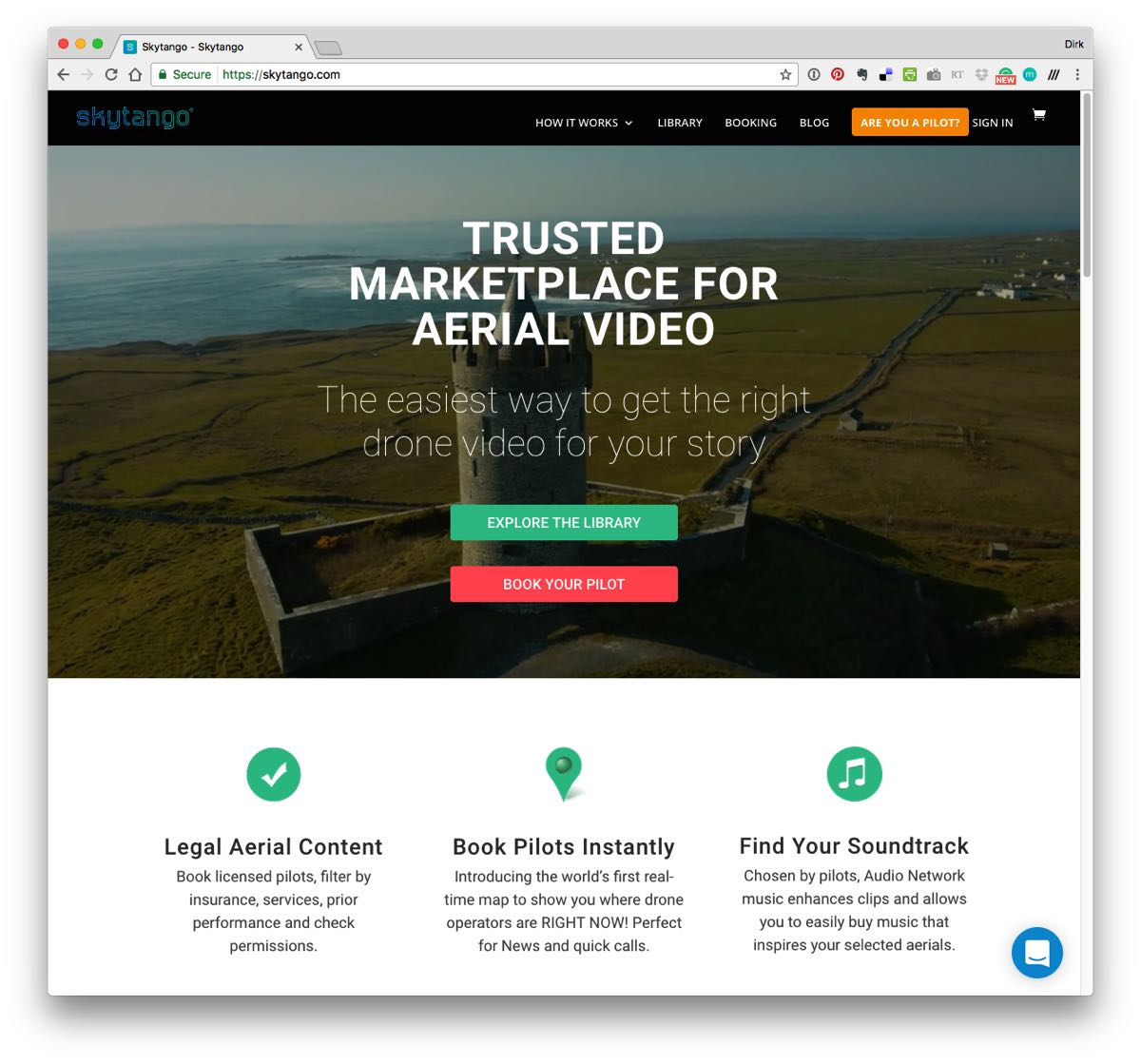 Skytango is more than just a great place to show off your aerial filmmaking skills.
It's a marketplace that brings together buyers from the media world with pilots who are looking to sell their aerial drone footage.
Buyers can either choose from a growing stock library of aerial video or contact a pilot directly and arrange a custom shoot.
Skytango was set up in partnership with BBC News, and can help aerial filmmakers who are looking to gain exposure in the field and make money while doing so.
Check out the following link to see how Skytango works.
Conclusion
So there you have it, plenty of places for drone enthusiasts and professionals to show off their drone photos and videos, whether you want to harness the power of everyday social media or target a more niche audience at a drone film festival.
Now this list can go on forever so if you're looking for even more options to get your work out there then check out 500px, Flickr, Pinterest and Tumblr.
Finally, with all these options of places to share your work it all comes down to you and how you are going to reach people!
Now get busy sharing ;)
Let us know in the comments below what your favorite places are to share your work and a leave a link to your profiles so people can check out your stuff.
Also if we missed a place that is great for showing off your drone photos and videos then let us know, we would love to hear about it in the comments!
If you enjoyed this post could you please do me a HUGE favor and share it? ;)
This blog is simply a hobby and labor of love and your support truly does help in keeping this website going!
Thanks so much!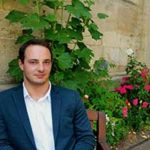 Malek Murison is a freelance writer working closely with tech publications and startups around the world.
---