My CreativeLive Drone Courses

I had the honor of recording some drones classes with the CreativeLive online education platform. Check them out below!
This is the perfect course for beginners
My CreativeLive Beginner Drone Course explains how to get more comfortable flying a drone, maneuvers to practice that will improve your skills, how to multitask flying your drone and capture what you see through your camera, drone settings, techniques, and resources to help you become a comfortable drone pilot.
I also do some post-processing techniques, including importing images & footage into Adobe Lightroom & Premiere where I show some tips on color correction/color grading.
AFTER THIS CLASS YOU'LL BE ABLE TO:
Confidently fly a drone
Understand basic legal requirements
Execute simple to intermediate drone maneuvers
Adjust settings for aerial photography
Simultaneously adjust the drone and the camera
Use drones to capture a variety of still and video perspectives
Edit aerial photography and aerial videography
---
Learn Which Drone Is Right For You (free course)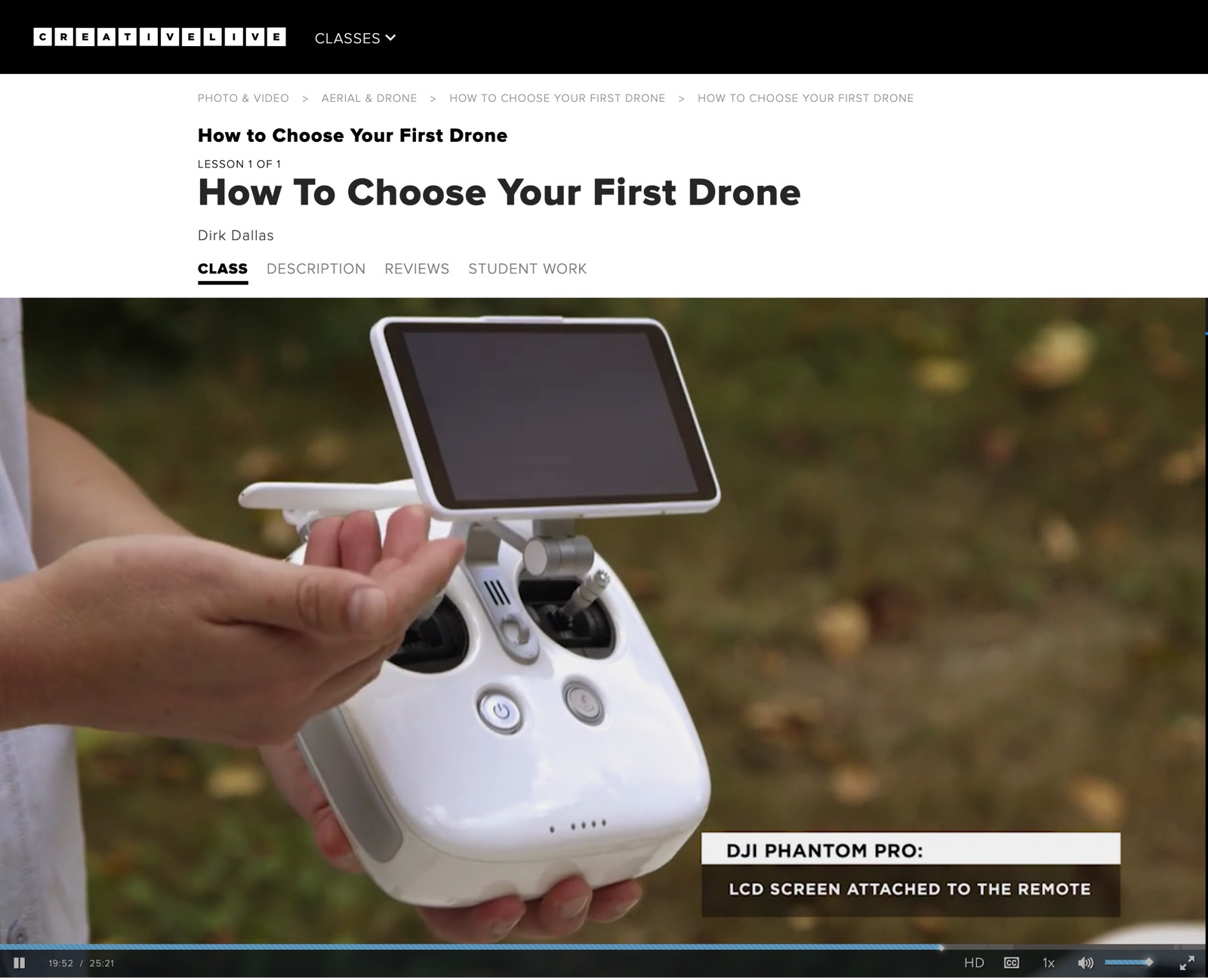 My CreativeLive How to Chose a Drone Course offers answers to the following: Have you wanted to get into drone photography and videography but have yet to purchase a drone? Do you get overwhelmed by the many different types of drones available for photography and videography?
Choosing the right drone for you shouldn't be the hardest part, don't waste your time by stressing about the types of drones, instead spend your time learning to fly and capture that amazing footage and imagery. As the founder of From Where I Drone and FAA licensed drone pilot, I will walk you through three different types of drones and which one will best fit your needs.
In this short class you'll learn:
The differences between the DJI Mavic Air, DJI Mavic Pro, and DJI Phantom Pro
Which drone is best for the type of images and footage you want to capture
How to set up your drone so it's prepared to fly
The different components of each drone including the props and gimbal
How to properly attach the props
What each of the buttons and inputs on each drone do
Who this class is for:
Any user new to drones
Photographers looking to expand to aerial photography
Videographers eager to add a new angle with drones
Drone newbies that want to figure out which drone to get
Don't let the drone market confuse you into choosing a drone that might not be the best one for you. Don't waste your time, learn from this quick class which drone is right for you so you can get out there and start flying!